Where can I purchase wire or metal molds to make butterflies out of nylons or other fabrics?

Bonnie from Lompoc


Answers:
Making Nylon Butterflies
I've seen wings where they've stretched white nylons over bent wire, then around the edges of the wire to reinforce, they've squirt out that glitter-paint that comes in a squirt bottle (88 cents at Walmart) kind of like "puff-paint" but without the puff. This acrylic paint adds strength plus you can even use glow in the dark paint.
You can buy the wire to make butterflies at any craft store in the "floral supply" area. They also have a wonderful spray paint that's made to "spray-dye" fabric. It looks like it's been "airbrushed".
Here are some sites I found:
How to make fairy wings:
How to make adult fairy costume:
Coffee filter butterfly: (cute for kids to make)
*Picture is from "How to make Fairy Wings" above: (01/18/2008)

By Cyinda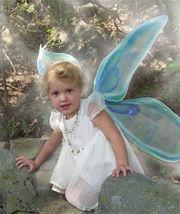 Making Nylon Butterflies
Just attach to metal coat hangers together and put nylon over the metal and attach the handles together with bread twisty ties and you have wings you can mold any way you like. You can use safety pins to pin them to a costume. (01/22/2008)
By cherie
Making Nylon Butterflies
I bought a bag of white floral wire. I have made several big and small butterflies. I plan to hot glue beads along the wire and make a body out of gemstones and antennae out of the beads that you put on corsages. I got the floral wire from Hobby Lobby for a $1.99 (07/03/2008)

By Julia