Whatever way you plan to celebrate the fourth of July, it's a really nice idea to make your own decorations to help your event go with a swing. With just some paints, paper, and a bit of imagination you can create some stunning star-spangled pinwheels.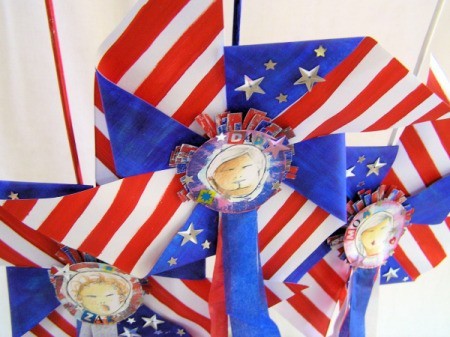 Read More...
How do you make pinwheels?
Answers
July 10, 2018
0

found this helpful
Here is one I made from an aluminum can:
July 11, 2018
0

found this helpful
These look super complicated, but are very easy and so pretty!!
www.youtube.com/watch?v=t5ovfSZPd5E
If you are working with kids, DO NOT USE the box cutter. That is overkill even if you are an adult. Plain old scissors work just fine :)
Have fun! Pinwheels are awesome!!
July 12, 2018
0

found this helpful
Pinwheels are a fun project for young and "old".
Paper pinwheels are for indoors or just for fun outdoors.
You should look at all suggestions so you will have different ideas on designs. Instructions will be about the same for all paper pinwheels.
If this is for a children's project, it is always fun for children to draw and color their own designs - all you need is squares of white poster paper.
I have even seen small pinwheels made using a Popsicle stick (works better with 2 sticks glued together-thicker).
Print instructions:
July 12, 2018
0

found this helpful
I remember making them it was easy you just took a square of paper and cut into the paper at the corners, then folding alternating corners in to create the right shape and Bob's your uncle
Answer

this Question
February 20, 2010
0

found this helpful
EasyInstructionsThings You'll Need:
8 1/2 x 11-inch piece of paper
Brass fastener
Drinking straw
Scissors
Crayons
Step 1Begin with an 8 1/2 x 11-inch sheet of paper. Construction paper is more durable, but it's not as lightweight as copy paper which can make it a little harder to spin.
Step 2
Make the paper into a square. Take one edge of the paper and fold it meet the top, so that you have a large triangle and a small rectangular strip of paper. Cut off the rectangular strip.
Step 3
Open up the folded square. There should be a crease in the middle. Fold the paper in half the other way so that when you open the square it has two creases making an "X." The square should essentially be divided into 4 triangles.
Step 4
Make a mark about 3/4 inch of the way up each line.
Step 5
Cut along each fold until you reach the mark. The paper will now have four distinct triangles attached to the center of the paper.
Step 6
Color or decorate each triangle.
Step 7
Take every other point and bring it to the center of the pinwheel. Try not to fold it on the way up, since a fold will interfere with the pinwheel's ability to spin. Fasten the points with a brass fastener, making sure to enlarge the hole enough that the pinwheel head can spin freely.
Step 8
Locate a spot on the straw about 1 to 2 inches from the top. Cut a small slit on either side in this space, taking care not to cut all the way through. Stick the pinwheel head onto the straw by sliding the brass fastener through the slits.
Step 9
Allow for a little space between the head of the pinwheel and the straw and then close the fastener. You may need to play around with it a little to get the pinwheel to spin with ease.
Go to -How do I make a paper pinwheel-for pictures.good luck.
March 1, 2010
0

found this helpful
I just read how to make these last week at Tip Nut :-) This link shows photo instructions, material list and a 'printable template' (the download for the template is in the material list area after the photo instructions) :-)