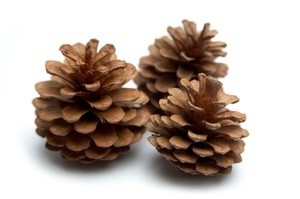 Because pinecones can be picked up off the ground at this time of the year this is a very inexpensive holiday gift for your coworkers, friends or family. Scented pinecones can be used as fire starters or just put into a pretty bowl or by the fireplace to make the room smell nice.
Directions
To make up several bags of scented pinecones first gather them off the ground around any pine, spruce or fir tree. It's best to gather them on a dry day when it's not raining or snowing if possible. Next, spread them out on newspaper to let them dry out overnight. To add scent, I recommend using real essential oils. They can be bought on the internet or at most health food stores. My 3 top favorite scents for pinecones are orange-citrus, cinnamon-spice or if you like the smell of Christmas trees use "spruce". Don't use the "pine" scent because your cones will then end up smelling like the cleaner Pine-sol. Take a disposable Styrofoam cup or a small ceramic or glass bowl or cup (not plastic) and fill it up with about 3/4 of a bottle of rubbing alcohol (about 12 ounces). To the alcohol add 1 or 2 teaspoons of your essential oil of choice and stir until the essential oil is mixed in with the alcohol. (Obviously, do this AWAY from any flame and don't smoke while doing this! Outside on a porch works best)
You can either dip your pinecones right into this mix or you can put the scented alcohol into a well-marked spray bottle and spray the pinecones outside as they sit in a cardboard box that's lined with a plastic bag. My favorite is an old box that held a case of small bottles of water because this already has the plastic on it. Lastly let the alcohol evaporate then put these pinecones into a restaurant style gallon jar with a lid or keep them in large gallon size zip-lock baggies until you're ready to give them as gifts. Use care if you bring these scented cones into an office because some folks have allergies to certain scents, so it's best to make sure your gift is wrapped in plastic, or is in a fancy glass jar with a ribbon or a tightly sealed ziplock bag.
The scented alcohol can also be sprayed on your older potpourri to make it smell like new! And the pinecones can also be used on top of packages as decorations in place of ribbons.
By Cyinda from near Seattle
There are lots of pine cones lying around on the ground at the moment. Use them to make free and very effective firelighters to light your woodburner or open fire. I soak them in used cooking oil to make them work even better. They smell great too.
By Mrs. Christmas from Slovenia EU
Answers
December 17, 2010
0

found this helpful
Wow. I've never heard of soaking them in used cooking oil before. A great way to recycle and make something needed! Thanks for sharing.
December 17, 2010
0

found this helpful
We use ours for camping.
Answer

this Question

...