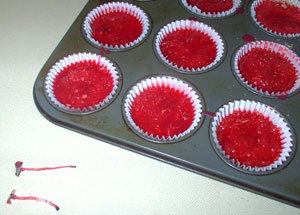 Here is an easy craft to make ahead for holiday gifts! Great gift for anyone with a fireplace!
Materials
paper baking cups
sawdust
wax or used candles
oil of cinnamon or your choice of essential oil
Instructions
The first thing you should do is get the wax heating. If you don't have a double boiler, you can use a jar in a pot of water as shown in photo.
While wax is melting, fill paper cups with sawdust. At this time, if essential oil is being used, add one drop into each cup of sawdust.
Pour melted wax in paper cups, just enough to cover the sawdust. Use a spoon to push down floating sawdust if you wish. You can fill wax to top, but I prefer more sawdust. Allow to cool and harden. Package as you like: ribbons, basket etc.
To use: Place 1-3 in the kindling/logs in fireplace
Hint: The thrifty way to find wax is to use old candles or check your local dollar store for the biggest candle they have! The two jars shown in the pot are half spent candles from the dollar store: already colored and scented like cinnamon! When wax is melted, use a fork to scoop out the wick and base, these can be saved for making homemade candles later;-)
By Starchild in VT

Comments
Read More

Comments