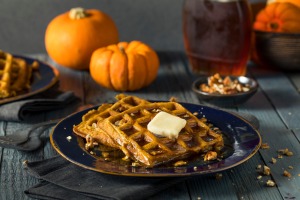 Absolutely Yummy!
Ingredients:
2 large eggs
2 Tbsp. brown sugar
1 cup half and half
4 Tbsp. butter, melted, cooled
1 cup all-purpose flour
1 1/2 tsp. baking powder
1/2 tsp. salt
1/4 tsp. pumpkin pie spice
1/2 cup canned pumpkin puree
1/2 Granny Smith apple, pared, cored, cut into small dice
1/3 cup chopped toasted walnuts
Directions:
Whisk eggs and brown sugar together in mixing bowl. Add half-and-half and butter and whisk until blended.
Mix flour, baking powder, salt, and pie spice in another bowl. Add to egg mixture and stir just until blended. Stir in pumpkin, then fold in apple and walnuts.
Heat waffle iron as directed and make waffles, using generous 3/4 cup batter for large iron.
I've just submitted the original recipe. This is what I have done. I use the entire 15 oz can and quadrupled the recipe. I cool them and put them all in a freezer bag. I've never had a problem taking them out as needed. They heat up either in the microwave or toaster.
If I've forgotten the half-and-half. I've used Skim or 1 percent milk.
Also, instead of using all the needed eggs. I used egg whites only which I keep on hand for all my baking.
I like New York Empire apples, so I use those and I never put walnuts in it.
Source: Found in "Good Food" magazine 1986 at my grandparents estate. It's the only waffle recipe that I use.
By Heather Krucker from Florida
Read More

Comments