If you are like most gardeners, you probably have a mound of plastic multi-pack containers growing in the basement or piling up behind the garage. You know, the dirty, crumpled flats right next to all of those gallon pots you plan to reuse. Sure, you may be able to reuse them once or twice, but when they eventually break down, most will end up in a landfill. Here is an old idea for inexpensive, do-it-yourself seed starting pots made from newspaper. When your seedlings are ready for the garden, just pop them in the ground-pot and all.
Finally, News You Can Really Use
A daily newspaper can be turned into dozens of customized, seed-starting pots. If you don't have a newspaper laying around the house, grab one from the office break room, stop by a coffee shop right before close, or look for free weeklies in the entry way of local restaurants and grocery stores. Avoid using newspaper printed with colored inks. Black and white ink is usually derived from soy-based products , which are better for the environment (and your seedlings). Brown paper shopping bags will also work well for this project.
Directions:
Gather your materials: a small jar, can, or juice glass to roll newspaper around; a pair of scissors; tape; and newspaper. (Note: baby food jars, and 5.5 oz cans of tomato paste work great for this).
Open a single sheet of the newspaper (two facing pages). Fold the newspaper in half (from top to bottom), and then fold it in half again. When your finished, this should give you a pot that is approximately 4 layers thick and 3 1/2" inches deep (far better for growing seedlings that the often recommended egg carton). If you want to customize the pot's size and thickness, you will need to cut the newspaper into the appropriate sized strips. Cut each strip as long as a full-sized page is across, and almost as wide as the small jar, juice glass, or can you are using. The width of the strips (size of the pot) that you will need depends on how long your seedlings remain in the pot before transplanting them. Seeds that take a longer time to mature (6 weeks or more) will need bigger pots. When deciding on the thickness of the pot, keep in mind that walls made up of more 4 or more layers will hold up better to frequent watering.
Place the jar (or can) on the newspaper so that a small amount of extra newspaper sticks out beyond the bottom. After you roll the newspaper around the jar to make the sides of the pot, this extra paper will be folded under to serve as the pot's bottom.
Roll the newspaper up snuggly around the jar. You want it to be secure, but make sure it is not wrapped so tightly that you cannot slide the jar out. Secure it with a piece of tape.
Fold the excess newspaper under the jar to make the bottom. Stand the jar upright and use a hard surface to squish the bottom firmly into place. Secure it with a piece of tape.
Slide the jar out of the newspaper. Viola! Now you have a biodegradable seed pot. Repeat the procedure for as many pots as you need.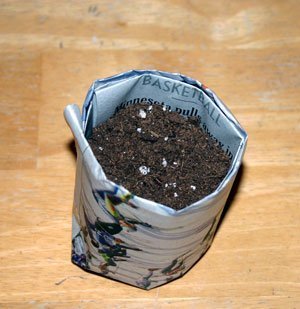 Tips: Once you have filled your pots with soil and planted your seeds, it's a good idea to place the pots side by side in a large, waterproof tray (a cardboard flat lined with a garbage bag works well). Keep an eye on moisture levels. The newspaper will provide for some natural drainage, but thick pots will drain more slowly.
When seedlings are ready to transplant, either unroll the pots to gently remove seedlings or, carefully remove the tape and plop the entire pot directly into the ground. Because the newspaper is biodegradable, it will break down in the soil relatively quickly once it is surrounded by dirt and moisture. Again, keep an eye on moisture levels. If the pot was still in relatively good shape when you put it in the ground, it may act like a wick and soak up surrounding moisture.
Toilet Paper or Paper Towel Rolls
Another genius idea and almost ready-made! When using toilet paper rolls for this, remember that cardboard is thicker than newspaper. It will hold up better to frequent watering, but break down more slowly once it is in the soil. As an alternative to planting the pot, simply cut the roll down the middle to free the seedlings for transplanting or tip it upside down and slide them out.
Directions: Cut 1/2" to 1" strips around one end of each roll, fold the strips under and secure with a piece of tape. You are done! Paper towel rolls can be cut down to make multiple seed pots. Set a covered basket in the bathroom to collect the rolls.