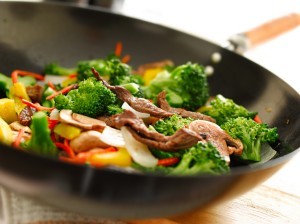 My son recently moved away from home and has been asking me for cooking tips for some of his favorite foods. I have made stir fry about once a week for my family for many years. It's a great way to use up excess veggies. I figured that I would share my tips with you all.
The technique of stir frying originated in China and spread throughout Asia. It has since been adopted worldwide. It is similar to sauteing but uses a bowl shaped wok instead of a flat frying pan. Vegetable oil is used to quickly cook the ingredients, which are usually served with rice.
I always start the rice before I prep the veggies. This gives it time to be cooked before the stir fry is ready. Rice can be made on the stove, in an InstantPot or rice cooker or can be purchased already ready to eat. I rinse my rice until the water is clear, which makes it less sticky. I prefer jasmine rice but any kind is just fine.
It's easiest to chop up all the vegetables before you start heating the oil but if you are practiced, you can chop them in order and add them as it cooks. Chop everything in bite sized pieces. I generally start with aromatics, like onion, garlic and ginger. Then cut up your favorite vegetables. Carrots, mushrooms, cabbage, broccoli and zucchini are popular. I usually only add in 3 or 4 different vegetables. Use your favorite takeout as inspiration for ingredients.
If you are making a stir fry with meat, you will want to cook it before the vegetables. I like to marinate the raw meat in a mixture of soy sauce, garlic and ginger but you can use a bottled condiment, like teriyaki sauce instead. Use a neutral oil (avocado, peanut, canola) and quickly stir fry the strips or chunks of meat. Remove from the wok and cover until the end. You can also serve meat on the side. This is a great way to use up leftovers.
After you remove the meat, you will need to add in more oil to cook the veggies. I usually make sure there is about 2 tablespoons in the bottom of the wok and then turn it to a high heat. When it is hot, add in the onion and cook until slightly browned. Then add in garlic and ginger. When those are mixed in, add mushrooms, zucchini or any other veggies that will absorb the flavors.
After they are cooked, add in hard veggies like carrots so they will have time to soften. Add in tender vegetables like bean sprouts, snow peas, broccoli or any greens at the end. Add about 1/4 cup of water or broth to allow the newest vegetables to steam and place a lid over the top for a couple of minutes.
Now that all the vegetables are cooked, you can add in soy sauce, herbs or any other flavorings. The sauce you use will depend on the type of stir fry you are trying to recreate. Sesame oil, Chinese hot mustard, fish sauce and sriracha are popular in our household.
Many recipes call for adding cornstarch to thicken the existing cooking liquid. You should also add in the pre-cooked meat to warm it up slightly. Some recipes add noodles. You will need to cook them in advance then add them at the end, with the meat and any additional flavorings. Yakisoba, Pad Thai, and Lo Mein are some popular stir fried noodle dishes. In a pinch, you could use ramen noodles or even spaghetti.
Serve it over rice with the sauce spooned over the top or added right to the plate, if you wish. If you make a large batch, package up meal sized portions for lunch the next day. It can even be frozen for a quick meal in the future.
If you prefer to follow a recipe, here are a few that I have published to ThriftyFun in the past.