Free2B
Bronze Post Medal for All Time! 216 Posts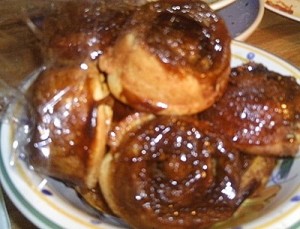 I hadn't made this in a long time, and had forgotten what a pleasure it is to work with this dough. It has less sugar than a lot of recipes, so it isn't overly sweet. You do not have to knead this dough to develop the yeast and gluten. Instead, you mix it well, then put it in the refrigerator overnight. The next day, all you have to do is knead it a few seconds and shape it the way you want. I include a couple of ways to use it.
Ingredients:
4 1/2 tsp. yeast (2 packets)
1/4 cup lukewarm water
1 cup lukewarm milk
1 cup softened butter
2 eggs, beaten
1/4 cup sugar
1 tsp. salt
4 1/2 cups flour
Dough Directions:
Dissolve the yeast in the water. Mix it with the rest of the ingredients in a large bowl. Mix it thoroughly with a wooden spoon, or with the dough hook on a mixer. When well combined, beat for about 1 minute. It will be very thick to beat, but not as thick as most yeast doughs. Put the dough in a buttered bowl, and butter the top of the dough. Cover with plastic wrap and refrigerate overnight.
---
Caramel Apple Rolls
Ingredients:
1/2 recipe for Rich Sweet Dough
Topping:
1/2 cup butter, softened
1/2 cup brown sugar, packed
1/2 tsp. cinnamon
1/4 tsp. nutmeg
1/2 cup chopped nuts
Filling
1/4 cup brown sugar, packed
1/2 tsp. cinnamon
1 cup chopped apple
Directions:
Put two teaspoons butter in each cup of a muffin tin. Mix the brown sugar, cinnamon, and nutmeg. Put 2 teaspoons of this in with the butter, then 2 teaspoons of nuts (I use walnuts or pecans). Place in the oven for a couple of minutes to melt, then set aside.
Take the dough out of the refrigerator, cut in half, and return rest to fridge. Sprinkle a little flour on your work surface and your hands, and knead the dough a couple of times to get it workable. Flour your rolling pin just a little, and roll the dough out into a 15x9 inch rectangle. It is very easy to work with. Spread it with the softened butter, sprinkle with the mixed brown sugar and cinnamon, and then with the chopped apples. Roll it up like a jelly roll, along the long side. Pinch the seam closed. Cut it into 12 equal slices. Put a slice in each muffin cup.
Cover and let rise until almost doubled. Bake at 375 degrees F for 12 to 15 minutes. Invert onto a cookie sheet or platter and let drain for a few minutes before taking the muffin tin off.
---
Coffee Cake:
Ingredients:
1/2 recipe for Rich Sweet Dough
3 - 4 Tbsp. soft butter
1/2 cup packed brown sugar
1 tsp. cardamom
2/3 cup golden raisins
juice of 1/2 orange
zest of 1 orange
3/4 cup chopped walnuts or pecans
1 egg
1 Tbsp. water
Directions:
Plump the raisins in the orange juice before starting. Mix the sugar, cardamom and orange zest. Roll the dough out as for the rolls. Spread the soft butter on. Sprinkle on the sugar mixture, then the nuts. Drain the raisins, and spread them evenly over the dough. Roll up as for the rolls, but pinch the ends shut as well as the seam. Put this on a buttered baking sheet, seam side down. Along one of the long sides, make slashes at 2" intervals. Shape it into a crescent, with the slashes on the outer side.
Cover and let rise until doubled. Beat the egg with the tablespoon of water and brush on top of the dough, then bake at 375 degrees F for 25 to 30 minutes. Can be glazed, though I don't usually bother.
Servings:
24
Time:
24 hours, with time in refrigerator Minutes Preparation Time
15 - 25 Minutes Cooking Time
By Free2B from North Royalton, OH
Read More

Comments