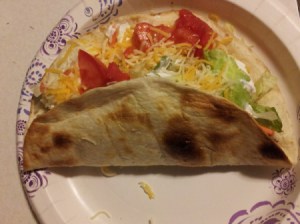 We love tortillas! I keep them in the house and my family uses them for everything from quesadillas, tacos and burritos to just putting butter or peanut butter on them for a snack.
A couple of weeks ago my 16 year old son did something that really made me wish I'd thought of it - well, actually I had, but I never tried it because I didn't think it would work. We were having scrambled eggs for dinner, and he casually grabbed a soft taco sized flour tortilla, folded it in half and dropped it in the toaster. When it popped up, it was still soft but also slightly crispy and nicely warm, like something you'd get eating out or toasting in a pan on the stove, but this was much easier and faster.
I was really surprised, I never tried it because I thought the tortilla would stick together, burn or fall apart but apparently he's been doing this for quite awhile and it's become a favorite way for our family to eat tortillas now. I love to toast and butter mine for a snack.
When you first try this, you have to watch it you know how fast your toaster browns, or the tortilla will burn. You can tell when it's ready when the edges start to puff up.