Using checkered fabric, polyester fleece, and 2 colors of embroidery thread, I created a prayer quilt for my friend that will soon have major surgery. She has knit many prayer shawls for others in our church, but I believe she will be surprised to receive this "chicken scratch" embroidered quilt for herself.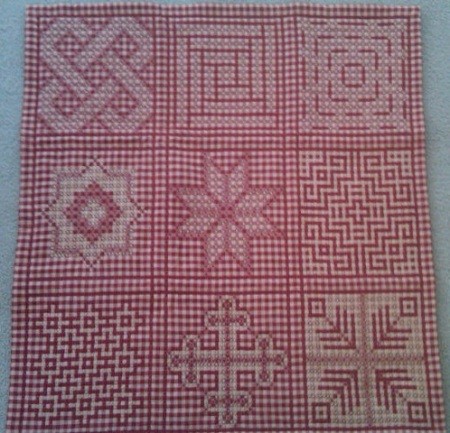 I searched the internet for images of chicken scratch embroidery and also used counted cross stitch patterns as inspiration for the quilt. I created 9 completely symmetrical patterns so that the quilt has no top or bottom direction.

Embroidery of the 9 squares was done through 1 layer of fabric and 1 layer of fleece. A second layer of fabric was added as the quilt backing after the embroidery was completed. I then quilted through all layers around the border and in between the 9 squares.