Making a Floral Arrangement
Solutions
Share on ThriftyFunThis guide contains the following solutions. Have something to add? Please share your solution!
To celebrate the end of our summer break, and the start of a new school year, I invited some of my teaching colleagues for a morning tea. I made some delicious snacks and added miniature floral arrangements to make the day special. A round floral arrangement has no front or back, so they are ideal to use as centerpieces for a tea table.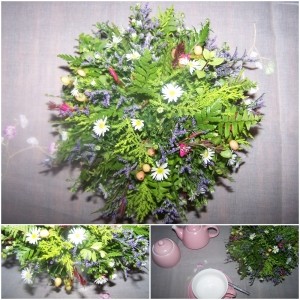 Approximate Time: 45 minutes
Supplies:
one green water-retaining floral foam brick
The brick measures 3 inches x 4.4 inches x 9 inches. It is scored in 3 places for even sizing, but you can cut it to the desired size. See http://www.save-on-crafts.com/artesia.html for a possible supplier.
galvanized mini tin bucket with a height of 2 7/8 inches
See http://bucket-outlet.com/Obo000.htm for a possible supplier.

greenery
I used leatherleaf ferns, cypress twigs; pittosporum silver leaf twigs and herringbone ferns, but anything similar will do. Using different types of greens adds texture to a floral arrangement.
flowers
I used hypericum berries; Limonium (sea lavender), and Michaelmas daisies, but any small flowers will be suitable for this project.
a pair of standard scissors
a sharp knife
a large bowl of water
one wooden kebab skewer
Instructions:
Using the pre-cut score lines as your guide, cut off a third of the floral foam brick.
Soak this piece of floral foam in the bowl of water. Do not push the foam under the water, but allow it to soak up the water on its own, or else it may leave dry spots in the foam which can't be detected from the outside.
After 20-30 seconds, or as soon as the top of the piece of floral foam is level with the surface of the water, remove the piece of floral foam from the water.
Turn the mini tin bucket upside down and gently push the top of the bucket into the piece of floral foam, so that you will have left an imprint on the foam.
Use the knife and cut the floral foam to the correct size, so that it will fit snugly into the mini bucket. You will have to cut the foam at a slant, to make provision for the fact that the bucket gets narrower towards the bottom. Do not cut away too much at once. Cut a few small pieces away, measure it to the bucket and keep on cutting and measuring until the foam fits into the bucket. The floral foam must not be level with the rim of the bucket, but must be about 1 inch higher than the rim.
To make a round floral arrangement, the greenery and flower stems should all be cut to the same length. Using the height of your mini tin bucket as your guide, make a measuring stick from the kebab skewer. Measure a distance of 2 7/8 inches from the one end of the skewer, and make a mark. Then, add 1.2 inches from the first mark and make a second mark; the 1.2 inches will represent the piece of stem that will be pushed into the foam, whereas the 2 7/8 inches will represent the length of the flowers and leaves that will form the decoration.
Use the measuring stick to cut all the greenery stems to the correct size, and remove any leaves from the 1.2 inches part of the stems that will go into the floral foam.
Gently stick the greens into the floral foam, and press down on each stem until only the 2 7/8 inches is left sticking out of the floral foam. Be careful not to snap a stem when pushing it into the floral foam.
Work symmetrically; what you do on the one side, do the same on the opposite side of the arrangement.
Keep on adding greens until all the floral foam has been covered, making sure to keep the circular shape of the design.
Use the measuring stick to cut all the flowers to the correct size, and remove any leaves from the 1.2 inches part of the flower stems that will go into the floral foam.
Gently stick the flower stems into the floral foam, again pressing down on each stem until only the 2 7/8 inches is left sticking out of the floral foam. Be careful not to snap a stem when pushing it into the floral foam and remember to work symmetrically.
Tips:
1. When using a small container, as was used in this project, do not use large flowers. Small flowers will lead to a more balanced result.
2. To make the arrangement last longer, add water to the foam daily.
By Benetta from Pretoria, Gauteng
Keeping with the April Showers theme and Spring, I used a new rain boot to make a display. A child's boot could also be used, maybe one that was headed for the trash due to a leak.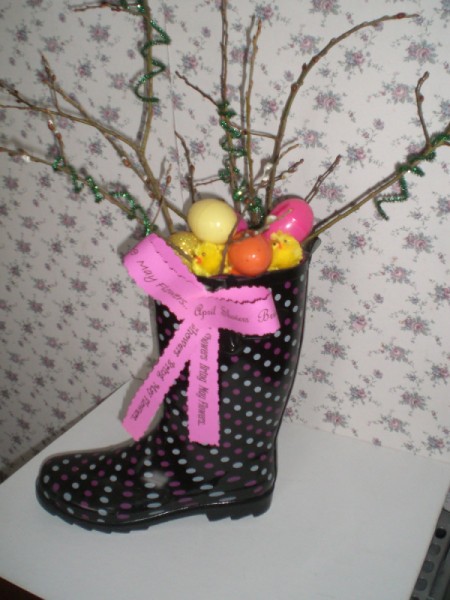 Supplies:
rain boot
vase (to place inside boot)
pussy willows
plastic eggs, chicks or other cute Easter decorations
printed page of the words "April Showers Bring May Flowers" to cut into a bow (see photo)
pipe cleaners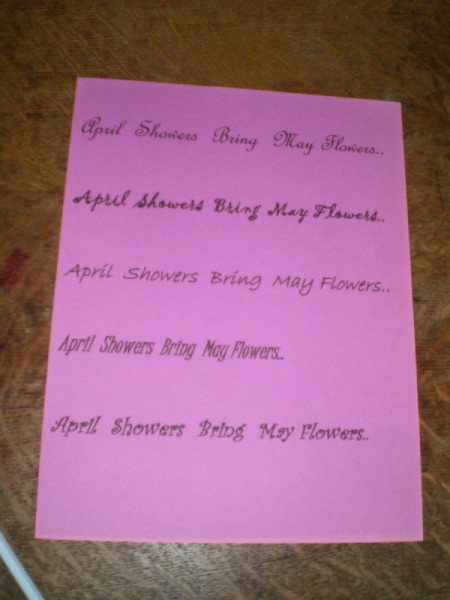 Instead of pussy willows, you could use a potted Easter plant.
Steps:
I just plopped a vase down into the boot and added water so I could add some pussy willow branches into my design.
I twisted some green pipe cleaners around the branches, just to look fun and fancy.
I filled in the boot with some plastic eggs and little chicks that I had from past Easters.
I printed the saying "April Showers bring May Flowers" a number of times onto colored paper. I cut it out and formed it into a bow that I taped onto the rubber boot.
I thought it was easy but cute for Easter. I will leave it at my front door but it could be an indoor centerpiece as well.
May 22, 2006
0

found this helpful
To make bouquet sturdier in a vase use marbles. They look good in a clear vase, but will work in any type of vase.
Read More...
Shauna Smith Duty
0

found this helpful
Floral arrangements are best classified by shape. This project describes how to build a tall triangular floral arrangement. When complete, it will look best on a podium, shelf, or end table as the tallest of three objects.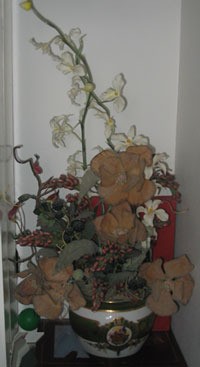 Read More...
Shauna Smith Duty
0

found this helpful
With the lasting popularity of old-world décor, this grape arrangement will add class and color to an end table, dining table, pedestal, or architectural niche. You can use the same concept with different varieties of fruit, or add seasonal flowers or ribbons to change the look of the arrangement.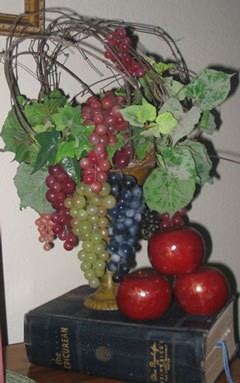 Read More...
Questions
Ask a QuestionHere are the questions asked by community members. Read on to see the answers provided by the ThriftyFun community or ask a new question.
I make silk flower arrangements. I have been asked to do a fresh flower wedding in August; is there a big difference?
By Cindy from Middletown, DE
Answers
March 8, 2011
0

found this helpful
Best Answer
Huge difference! Fresh is much harder! It is hot in August and fresh flowers are very perishable. Roses that are buds when you start are opening and dying within hours so unless you have a cooler to store them in you have to get and arrange flowers the day of the wedding. You can not bend stems any way you like as you would with silks. If you cut a fresh flower stem and it is too short, you are stuck with it and it is wasted. With a silk you can simply extend the wire stem by taping on a longer wire. Unless you have a wholesale source fresh flowers are expensive. You are also limited to the actual colors of the flowers. Don't forget that you will need oasis, waterproof containers, corsage and boutonniere bags and pins. Just FYI, Costco does sell special order arranged wedding flowers.
March 11, 2011
0

found this helpful
Best Answer
Lindal is right. I am also a silk wedding flower provider. You also have to consider shipping costs, and most fresh flower arrangements can only be made up within 72 hours of the event.
Refrigeration and changing out water is key. Plus you'll need floral foam versus styrofoam.
It could be real headache. I don't take on fresh clients. I just don't have the needed staff and refrigeration to properly handle these types of request.
Good luck!
Answer

this Question

...
I saw a "cupcake" that is a small floral arrangement and I'd like to make one of my own. The "paper cupcake liner" looks to be a small terra cotta pot with ridges. The "cupcake frosting" is actually a mound of white carnations.

Any suggestions as to how I can achieve the terra cotta ridged "cupcake liner"?
By Jan from Louisville, KY
Answers
May 27, 2010
0

found this helpful
Best Answer
I would use a piece of corrugated cardboard with one smooth side removed (this often comes as packing material or you can try splitting the layer away yourself) then spray paint it any color you like. Wrap around any appropriate container, wavy side out, and there you go!
May 30, 2010
0

found this helpful
Best Answer
I've seen large silicone molds for baking a large "cupcake" cake for birthdays. The mold could be used for the bottom.
Answer

this Question

...
I am looking for step by step instructions on how to make a fresh, silk and dried flower arrangements using the floral and dry foam. Also, where can I get supplies at a discount price?

Thanks,
Nancy from Hatfield, PA
Answers
By Tanya (Guest Post)
January 4, 2007
0

found this helpful
Best Answer
There are many used flower arranging books available at Amazon.com at a good price, or you might try your local library if you don't want to buy a book. I am a professional floral designer, and my advice is to shop at Wal-Mart for the best prices. You may have a floral wholesaler nearby, but generally they will not sell to anyone who does not have a retail license specifically designated for flowers, but it won't hurt to try. Hard to beat Wal-Mart prices, though. Good luck.
Answer

this Question

...
Photos
Share on ThriftyFunCheck out these photos. Click at right to share your own photo in this guide.
Peonies, mock orange, and weigela compliment each other and create a bouquet with an old-fashioned look. Makes me smile whenever I look at this photo.
By ~gloria from western NY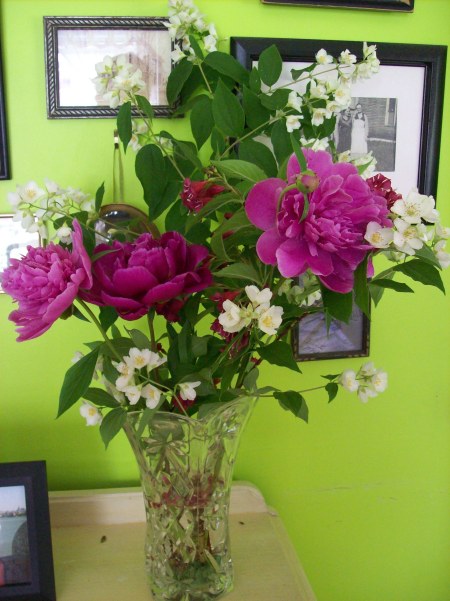 Here is a craft for too small boots or ones no longer wanted. Place a rolled up magazine inside to keep it upright. Stuff some tissue paper, foam, or moss in the boot, artificial flowers or greenery inside, and you have a great floral arrangement.
For Christmas, you could put any type of Christmas flower, ornaments, garland, sprigs, pine cones; the list is endless. You could use live plants with any container that fits your boot. You can decorate the outside of the boot any way you like. Makes a great gift or just keep for yourself. You could also do a Thanksgiving project with boots too. Your imagination is all you need.
By Tricia from Ridgeway, VA
Related Content