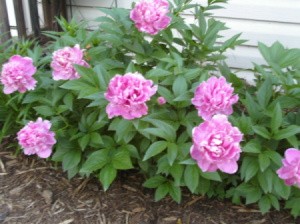 When you plant your flower garden, add a few extra rows, make a couple of extra flower beds, or plant some additional container gardens with flowers that can be cut to make a bouquet. When your garden is full of beautiful blooms and you begin cutting some to add beauty inside your home, cut a few more than you need. Place the extra flowers in some glass jars that you have saved or in some empty vegetable or fruit cans. Then deliver your surplus of flowers to a nursing home, assisted living facility, elderly neighbor, or a friend or family member that needs a little cheering up.
You can also include aromatic herbs in your flower bouquet.
A tight budget may make it difficult or impossible for you to buy gifts to give someone to brighten their day. Packets of flower seeds are very inexpensive and you get a lot of seeds per pack. Even buying small flowers to put in your garden is relatively inexpensive, especially when you consider the abundance of beauty just a few plants can provide. You can't help but feel good yourself when you brighten someone's day with a beautiful bouquet of flowers from your garden.

By VeronicaHB
It's always great when the right flowers bloom at the same time. This bouquet is made up of red roses, white daisy, blue delphinum set off by bells of Ireland. I germinated the seed for bells of Ireland and had an abundance. I loved each one!
By Twila