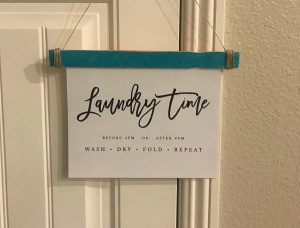 Our electric plan recommends using electricity before 4pm or after 9pm. From 4pm to 9pm, it is considered peak time and will cost more money. To conserve and as a reminder, I wanted a sign to place on/in our laundry room door.
After thinking it through, I decided to create a custom sign online (via link below, actually a great free wedding site, but I edited the text to work for my sign). Then, I saved the picture and was able to print this 8x10 sign at CVS for free with a promotional code, a $3.99 savings value!
My sign reads:
Laundry Time
Before 4PM -OR- After 9PM
Wash - Dry - Fold - Repeat
What's great is that occasionally CVS and Walgreens offer free 8x10 print promotions where you upload your photo and pick up at your nearest location. The next upcoming free 8x10 print will be from Walgreens around Father's Day. If you're a Walgreens member, you'll get the coupon code sent to your e-mail. It is the perfect time to plan what wall art you want printed in your home for less, or you can print a free photo!
Then, for my wood accent - I used these left over paint rulers I have from Home Depot. These are complimentary paint rulers used for stirring paint and after painting our home, I had a couple left over.
Essentially this sign was made for free with items I was able to find around my home. You can recreate this sign as home decor (not necessary laundry, but you can do any sign ex: welcome sign, bathroom sign, birthday, anniversary, etc.).