These are great gifts and certainly lift your spirit with the clove/orange aroma. When dried, these can be hung or kept in closet/drawer for an amazing fragrance. Cost of 10 pomanders is about $10.00 (bag of oranges: $4-$5, Cloves: $3-$4, Orris root: $2)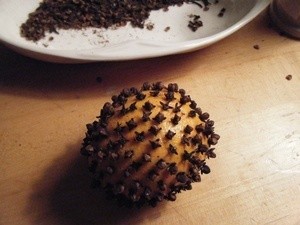 Materials
bag of oranges (firm)
whole cloves, about 2 oz. to 3 oranges (89 cents at Christmas Tree Shop, check dollar store too)
knitting needle (small) or something to puncture peel
tissue paper or newspaper
orris root (bulk, in herb shop), 1 tsp. for each orange
ribbon (optional)
Instructions
Peel sticker off orange and wash if you like. This is a good time to pop the stem off if there is one.
If you are going to hang it, you will need to mark where the ribbon will go. It will make an "X" at top and bottom, like a gift box ribbon. You have marked the area where the ribbon will go, this is where you will "avoid". Make sure you give yourself extra room for the ribbon, the orange will shrink. "Do not" attach ribbon until dried. I did that once and the ribbon was ruined and needed to be replaced.
Take your puncture point (I used a hair pin, but knitting needles are most common.) and start poking through the peel in close spacing.
Push cloves into the tiny holes you have made. Cover all areas, going back to fill in any bare spots. For drawer pomanders you can just cover the whole orange (those are my favorite).
Sprinkle about a teaspoon of orris root (a preservative) on pomander, using the paper to catch overpour and re-sprinkle until fairly coated.
Wrap up pomander in paper: fold top edge over, then sides and roll.
Allow to dry for 2-3 weeks. You can use a food dehydrator too.
These are sure to be appreciated and they smell good for a long time. Enjoy!
By Starchild in VT
Every year for Christmas I try to make old fashioned pomander balls: stud citrus fruits with cloves, roll in cinnamon, then put in a cool dark place for several weeks. But this climate is so hot and humid they always mold before the process is complete. I've tried putting them in a very low heat oven but they scorch and smell awful. Anyone have a solution?
peanut from Virginia
Answers
October 6, 2007
0

found this helpful
How about if you re-think the process. The item that molds is the orange - so discard it and replace with a styrofoam ball. Cover the styrofoam with something that will permit cloves to penetrate (or pre-make the holes with a straight pin) and secure with a dab of special glue.
For the scent, go to a store (like Ulta or a health food store) and check out their aromatherapy essential oil selection. Right before you present the gift, mist it with the scent. Or soak the scent into the styrofoam (unless it crunbles the foam - must investigate).
The alternative is to buy at great expense some potpourri dried fruit and stick the cloves into these - but this is probably going to cost more $$$ than it's worth.
How about a small crocheted doily wrapped around a styrofoam ball, the ball being first covered in red Saran Wrap. Then do the scenting and give.
Good luck!
October 6, 2007
0

found this helpful
Maybe use a food dehydrator?
By Pollegra (Guest Post)
October 6, 2007
0

found this helpful
Try using your micro wave. I have done it and it does work. I microwave the pomeranda in 20 second intervals that way you can control how dy it gets and it doesnot scorch.
By Nick (Guest Post)
October 16, 2007
0

found this helpful
Maybe putting them in a food dehydrator on the lowest temperature would work. I live in southern California where the climate is dry and relatively warm year round, So I haven't tried this myself.
Good Luck!
September 27, 2008
0

found this helpful
We used to use silica to dry them out, like you use to dry out flowers. We'd get it at craft stores, they even have food grade. Anything very dried out won't look as pretty. Also try covering the whole orange with cloves till it dries then remove some the cloves preserve it.
Answer

this Question

...