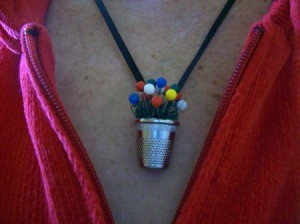 An old thimble becomes the flower pot and brightly-colored straight pins become the tiny flowers. This would be a great gift for someone who sews.
Approximate Time: 1 - 2 hours
Supplies:
old metal thimble
straight pins w/ball tops
green threads
hot glue gun
metal punches in several sizes
hammer
stick or dowel, size of inside thimble
necklace chain w/jump ring or thin ribbon
Instructions:
First, push a dowel or stick into the thimble to keep it from flattening too much when you whack it. Although, it will lie on your neck w/o rolling from side to side if it's not completely round, so a little flattened is ok.
To make the hole, use a very pointy punch to make an initial dent in the thimble, close to the top rim. Place the thimble with stick on a leather glove, and hold the thimble and punch in place with one hand and the hammer in the other. Then, carefully tap the punch several times until you get a good indentation.
Once you get your little dent, go to a larger punch. I used 3 different sizes before I got the size hole I wanted. Just big enough to get a very thin ribbon or cord through.
Now that you have your hole, loop your ribbon through the hole. Or attach a jump ring and silver chain.
Set your thimble aside and pull lots of threads out of a green piece of fabric. Or if you prefer, you can use embroidery thread or whatever you like. Ball up the threads and push them down into the thimble until you fill it and have a little poking out the top. This is your grass.
Now arrange the pins into the threads in the thimble the way you want them. Use any number you like. I wanted a full bouquet so I used a lot.
Carefully take the pins and the threads out together and set aside.
With your glue gun, fill the thimble about 1/3 full with glue. Careful, it will get hot. Now replace your pins and threads before the glue has a chance to harden. Move your pins around until you have them the way you like.
You can use a separate pin to get the threads tucked in or pulled out to your desired effect.
Note: The original idea for this (Laura @ The Wind and the Sail blog) has us using a drill w/ small bit (1/8 inch), but I did not have any success getting the drill to go through my thimble. You can try it that way if you want to experiment a little.
Source: Laura @ The Wind and the Sail blog
By ~gloria from upstate, NY
Comments
March 29, 2012
0

found this helpful
I'm usually good at visualizing but the picture makes a world of difference. I didn't realize the size of the pins would be so perfectly "in scale" with the thimble. This rocks!
March 30, 2012
0

found this helpful
Thanks, Glimmer. And there's lots of different color combinations you could do. The person I got this idea from used pastel-colored pins that were sort of pearly translucent.
I'm more of a primary color person. I think she also used fewer pins and had them sticking out taller than I did. So, it's not too hard to put your own spin on this idea.
After I took this photo, I changed to a jump ring thru the hole, so I could adjust the length of the ribbon, cord, etc., depending on the neckline I was wearing.
I'm also thinking of making one with "sticky tack" in the bottom instead of glue, so I can add or remove the pins. The only drawback to this is you'd have to be careful that you didn't get your clothing, hair, or anything else caught on the pins and pull them out.
Thanks for your comments, much appreciated.