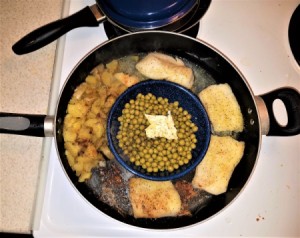 Twice a month, I cook up some fish, spuds and peas. I usually eat the spuds, 1/2 the peas, and two pieces of fish. This leaves two pieces of fish and 1/2 the peas for lunch the next day.
With a tiny kitchen and little prep room, I found this 12 inch skillet works wonders. I put the fish in with some lemon pepper and garlic powder and oil, then cook them till they are ready to turn over.
While that is cooking, I nuke the spuds and cut them into smaller pieces. Then I add them to the skillet.
Then, with a metal bowl or baking dish, I put the peas and butter in the center. Turn the fish and cover, and in about 10 minutes, you have 2 meals and only one skillet.
Easy to do, clean and with a proper fitting lid, it's all done at once. This was Swai fish, but you can use tilapia, halibut, or any fish. Skinless is easier to cook. Just sayin'!
N-JOY!