February 23, 2006
0

found this helpful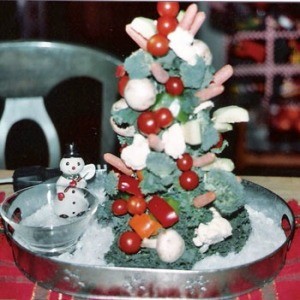 This veggie tree is a "hit" of the party; use any type of vegetable or fruit you want to use with your favorite dip. The veggie tree can be used at any type of party; change the decoration on the tray to reflect holiday or occasion. This one was for Christmas.
1 styrofoam cone
fruit or veggies of your choice (apples are especially good; alternate green and red apple slices for holiday)
toothpicks - cut in half
tray
rock salt
small resin figures or figurines
For the veggie tree - wrap styrofoam cone with curly lettuce; insert 1/2 toothpick into the veggie to place on the cone; start at the bottom; layer veggies cut to size if applicable (cucumbers, cherry tomatoes, radishes, broccoli florets, cauliflower florets, carrots,etc.); use a cherry tomato at the top.
For the fruit tree - cut apple slices and soak them in lemon juice; wrap styrofoam cone with curly lettuce or kale leaves; place 1/2 toothpick into apple to stick into the cone; layer fruit from the bottom; use a piece of star fruit at the top.
To display:
Use a tray with a side on it; layer with rock salt; place "decorated" cone in the center; decorate with resin figurines and figures; you can use small pine boughs, holly leaves to decorate tray; on one side, place a small bowl to hold dip; on the other side a small toothpick holder to hold toothpicks. A small votive candle could be placed on the display if the tray is large enough.
Dips for veggie tree could be bottled salad dressing or homemade; fruit dips can be bought at the grocery store or homemade.
It is a conversation piece plus a healthy snack for holiday enjoyment.
By WandaJo from TN
March 15, 2005
0

found this helpful
When I was a kid we had a carrot curler. Think of it as a vegetable peeler on one end of the gadget, peeling a thin uniform layer of carrot as the vegetable rotates around a small spiked spindle, and hand-powered on the other end of the carrot by turning a crank on the gadget, the carrot being held on the crank end by jamming it into a holder which twirls as the operator turns the crank and applies pressure toward the vegetable-peeler end. Out come the most perfect carrot curls, which if freshened in ice water make the most delightful little-girl curls for a great vegetable tray!
Mother's carrot curler got so dull we couldn't use it so it has been discarded. If such a gadget is available nowadays, I'd love to know how to get one.
-Sally
Answers
February 25, 2004
0

found this helpful
Pampered Chef, which does in-home presentations probably has a website. I have seen their apple peeler in action. You would need to ask if that works on carrots or if they have a separate item for carrots.
http://www.pamperedchef.com
March 15, 2005
0

found this helpful
To make carrot curls, cut thin strips of medium sized carrots with a vegetable peeler. Roll each strip and fasten with a tooth pick. Chill in ice water.. Remove toothpicks and serve. Makes beautiful garnish for plates and soups.
By Sarah Muise
By guest (Guest Post)
April 4, 2005
0

found this helpful
Hi!
I've been looking everywhere for the same thing, and I found it!
It's called a Beriner BN5 Vegetable Turning Slicer. (At least that's the Brand and Model that I was looking for.) If you type that into a Google search, it will show MANY listings! I found it on several sites, the cheapest had it for $79.95, it's usually around 100.00. I was looking for the one with a fine blade, because some of the other brands and models only come with three blade, which does not include a fine blade. So, good luck! And remember to use Google.com, because I've tried yahoo and other search engines and they didn't show it :)
By guest (Guest Post)
January 16, 2008
0

found this helpful
Carrot Curler
http://www.kitc nd.asp?pn=FP4449
Add an elegant touch with this handy curler. Just like sharpening a pencil, you can have ribbons of carrots for garnishing. Use also with squash, zucchini and parsnips. Dishwasher safe, 4-3/4" long.
By guest (Guest Post)
October 2, 2008
0

found this helpful
These are made by Norpro and look like a big pencil sharpener with a handle. They are great - I think you can get them from Amazon.com.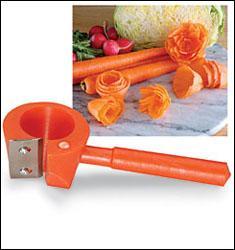 Answer

this Question

...