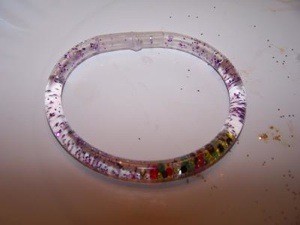 Clear plastic tubes filled with water, beads, and glitter to add sparkle. Move it back and forth and see them move.
Approximate Time: 1/2 hour
Supplies:
clear tubing, 2 sizes
tooth pick
seed beads
glitter
water
Krazy glue
Instructions:
You need 2 sizes of tubing. The smaller one fits inside the larger one (which you use for the bracelet) in order to seal the water from coming out. Or you could use a small wood dowel to block the water from coming out. The clear tubing looks better.
Cut the larger sized tubing to fit the size of the child's wrist and big enough to fit over the hand. It will be glued together and not able to come apart.
Cut a piece of the smaller tubing about an inch long.
Put Krazy glue around the outside of the smaller tubing and push it 1/2 way into the larger tubing on one end.
Put the seed beads into the tube. You may want to use a toothpick. They must be small in order to move freely.

Now put a small amount of glitter. Maybe a pinch. Use several colors if you wish.

Place your finger over one end and fill with water leaving about an inch on each end. In order words, do not fill completely full.
Now put Krazy glue on the last 1/2 of the smaller tube and push all the way in the larger one until they meet.
Stand it up and allow to dry.
After it drys, shake it hard and watch the beads move back and forth.
By Little Suzy from Millbury, OH
Comments
September 18, 2009
0

found this helpful
This is so fun. I remember these from when I was 6... 20 years ago!
They had sun tan lotion in them most of the times. Such small genious ideas like that is what I miss in todays market.
September 25, 2009
0

found this helpful
I agree with Becca25 - kids really need their minds stimulated and today's toys do not seem to do that for them. I am an English teacher who also does crafts with her students and they are so amazed by what can be made from recycled or upcycled rubbish!
Thank you for sharing this with us - I will surely teach my kids to make them.
September 25, 2009
0

found this helpful
Great idea thank you for sharing. My grand daughter will love doing this.