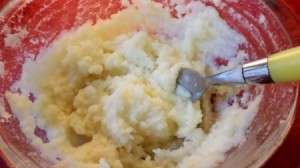 A lot of old recipes from the 1940's give an easy way to mash a small amount of potato or any soft fruit or vegetable. "Rub through a sieve" is a typical instruction in old recipes. I didn't know what this meant, so I tried it.
What you get: A soft, lump-free mashed vegetable.
To try it: Bake a potato until soft. Scoop out the insides. Keep the shells intact if you're making stuffed potatoes.
Next, rub the potato through a metal sieve with the back of a large spoon. Scrape the potato off the outside of the sieve with the spoon and drop it in a bowl.
You'll soon have a perfectly smooth mashed potato. Add milk, butter, and salt and heat for mashed potatoes or fill and bake for stuffed potatoes.
It doesn't just work for potatoes. As long as it's soft enough and has no skin it will sieve.