Meal Tips for Single Workers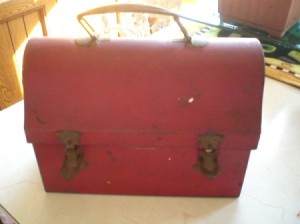 My daughter was challenged with working long hours and not having lots of time to prepare healthy lunches nor dinners. I came up with some hints to use as guidelines to help her continue to eat healthy while working long hours. I hope this helps others too!
Use a George Foreman grill to cook double (or more) servings of quick, easy double duty meals. Some ideas are: chicken breasts, panini/grilled sandwiches or grilled vegetables to use in a wrap for dinner. Always save the leftovers for lunches.

Get a small crock pot and make up bean and rich soups that can be used as lunches. Make double or triple your pasta for different sauces/veggies for multiple days meals or lunches without creating from scratch each day.
Sandwich Ideas: No need to always have bread! Lunchmeats with veggies like cucumber, avocado and greens can be rolled with cheese in wraps or even pita pockets: Use slices or pieces of chicken, turkey, roast beef. You can use hummus and mustard instead of mayo to change things up and be healthy too!
Tuna or egg salad or cottage cheese make great healthy additions to salads or as sandwiches.
TV Dinners: Kashi brand comes in along with Lean Cuisine as the healthier TV dinners Recommendations for TV dinners include: Light (or Lite) meals are best for weight conscious people, with less than 300 cal and 8 grams of fat, less than 4 gm of saturated fat. Regular meals should be 360-400 cal. (max 25 gram fat)> Should be less than 800 mg of sodium (1/3 of daily allowance of sodium). Try to get 3 to 5 grams of fiber in TV dinners!
Fresh and raw fruits and vegetables travel well and are the healthiest of all! Just bring along yogurt for the fruit or hummus to dip veggies in. Nuts (peanuts, almonds, walnuts, etc) are great sources of protein that can be eaten alone or in salads and other main dishes or snacks!
Add your voice! Click below to comment. ThriftyFun is powered by your wisdom!
December 7, 2018
0

found this helpful
Such good ideas. While I am retired, I am widowed and live on SS and a small pension. I often cook for my freezer, by making big batches of soups, stews and chili. I portion them out and label and freeze. I was raised by my grandmother, who had lived through the Depression, and was taught to save, never waste food, and especially, how to cook a great and healthy meal from a few ingredients. A crock pot is a great time and energy saver too. Best of luck to your daughter, she is on the right path.
December 7, 2018
0

found this helpful
My daughter used the Smart Ones when she went to grad school and had to stay late. They could be microwaved and it saved her time and money by not having to eat out.
Add your voice! Click below to comment. ThriftyFun is powered by your wisdom!