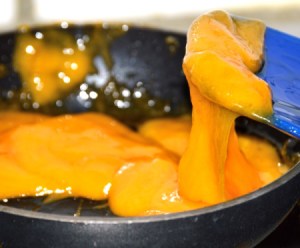 Normally when I bake anything with a cheese topping, the cheese always gets baked right on it. But, when I make homemade hamburgers, I don't melt the cheese on the meat patties anymore because the cheese seems to melt and spread off of the patty and then slides off into the skillet, then half of the cheese ends up in the bottom of the pan, which usually ends up a burnt cheese mess with the cooked hamburger patties.
This works great, and no cheese is left in any pan and you put the cheese exactly where you want it on your burger.
I take this little skillet (almost looks like a child's playhouse pan, haha)
and I put a tiny bit of butter in the heated pan first, then I add the
cheese. It melts fairly quickly, so you need to work fast so the cheese
doesn't separate or anything like that.
Just melt the cheese, then use your spatula to scoop out the hot melted
cheese and drizzle that on top of your patties/hamburgers or even toast, which is pretty good with it on it too.