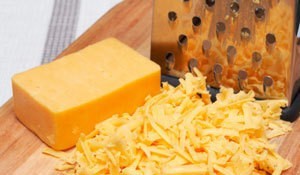 Tips and advice for saving money on cheese.
Low Fat Mozzarella
I find that the least expensive low-fat cheese is low-skim mozzarella! If you get it in blocks at Smart and Final or another "case" store, it's even less expensive, although a bit more rubbery.
By pam munro
Costco
I buy shredded cheese at Costco. It costs $10 for 5 pounds, cheaper than buying a block of the same brand, and all the work is done. I freeze it in smaller sections. I can also get shredded Parmesan in the dairy case for much cheaper than buying the big jar. Again, I just freeze what I can't use right away. I only buy cheese every few months this way.
Walmart
I was surprised when a few weeks ago I saw a man pick out the grated cheese package at Wal-Mart. I went over and checked it out for myself after that and found that the grated cheese was cheaper than the block cheese! This was really nice because it's easier to use the grated cheese in casseroles and on tacos and the grating is already done for you!
By Deb E
Divide Cheese
I've been buying the big bags of cheese for a long time. I've found recently, however, that it's important to divide and freeze if you're not going to use in the next few weeks; the cheese will start to 'sweat' on the bottom of the package if you don't use it up right away.
This is one of my favorite ways to save money.
By Kim
Use Stronger Cheese
Use a stronger variety of cheese than you normally do, and you can use less of it and still have a cheesy flavor. For example, substitute sharp cheddar for colby.
Freezing Cheese
We buy our cheese in the large bags already shredded at Wal-Mart. We only do our shopping once a month, so we make sure to buy one of each kind that we use, then when I get home I take a paper towel put it into our storage bags. We use the food saver storage system, then I divide everything in to halves so I have everything sealed and frozen for when we need it the most. Saving money and time.
By Linda
Watch For Imitations
Please keep in mind that if you purchase mozzarella cheese at Wal-mart it will probably be "imitation" mozzarella cheese. This kind of cheese does not melt well and, to me, has an awful taste.
By Gina
Don't Freeze Cream Cheese
I've been buying cheese in bulk when on sale and freezing in portions like the folks above. However, don't make the mistake of freezing cream cheese. It changes the consistency and the flavor.
By Jamjar
Don't Freeze Sour Cream Either
I know it's "cream" and not "cheese" but I want to put this out there. If you freeze sour cream, don't expect to use it in it's original form after it thaws. It's really watery and looks like baby spit up! (sorry) So if you do freeze it, you'll probably only want to use it in cakes and such.
By Lacy
Add Flour to Grated Cheese
When you grate your cheese, add flour to it, shake it up good, and put in freezer. Does not hurt flavor or usage. I use for all.
By Elayne
Divide Cheese Into 1 Cup Portions
I also buy the large bags of shredded cheese. I also get the snack size zip lock type bags at Big Lots and they hold 1 cup of shredded cheese. So I divide the large bag into my little snack bags and freeze them. I can then pull out and use a full bag in casseroles or just use part of a bag to add a little to my tacos or tuna melt.
By Bette
Get Cheese Factory Scraps
We actually live near a cheese factory! Every 6 months or so, we go and buy a ton of the odd ends and pieces, pack them in our cooler, then run it all through the shredder attachment of the KitchenAid and freeze it in sandwich bags that are exactly the right size to top a casserole.
By Jana
Block Cheese
I also know that the difference between block cheese and all ready shredded cheese in bags is that the shredded bags of cheese are more convenient but it contains fillers. So, bottom line: you get more cheese with the block.
By Rosa G.
Have Your Cheese Thinly Sliced
If you buy cheese at the deli - on sale of course - get it sliced thinner. A few more slices per pound equals a few more sandwiches per pound.
Here's a guide with tips and advice about freezing cheese:
Read More Comments
Whenever I go shopping, I notice how expensive lunchmeat is. My son LOVES cheese (cheese sandwich for lunch, cheese with dinner, cheese as a snack), and it really runs up the bill. Before I go to the deli, I'll run by the little cases they have around the deli (check all of them), and I see if they have any packaged "cheese ends". Last time I shopped, I bought two HUGE packages.
A lot of times, they are larger chunks, but you can make them work in sandwiches, and you'll also find slimmer slices mixed in with the larger ones. I usually buy a few packages of these, and one pound of regular sliced cheese. I use the cheese ends whenever I need to melt cheese for something, or am running out, and they are much cheaper than deli prices! I've also bought turkey ends for hot turkey in gravy, and bologna ends for my boyfriend's sandwiches.

By Jacqueline

Answers:
Buy Deli Meat and Cheese Ends
These ends can be frozen for later use such as extending pasta salad, appetizers etc. (05/31/2005)

Buy Deli Meat and Cheese Ends
If you shop at Sam's, they have very good deals on deli cheese. (06/01/2005)

By Holly
Buy Deli Meat and Cheese Ends
Some cheeses freeze better than others. Some will crumble after they're thawed which makes them impossible to cut, but perfect for melting, just experiment. You can try serving the cheese cubes for a snack with some pretzels and hot mustard to dip them in. Cheese and crackers. Cheese and grapes or other fruit? It will make the cheese last longer by not having so much at one sitting. Cheese contains too much salt and fat to eat so much in one day, anyway. This is from a cheese-a-holic, love cheese, but enjoy the variety platter snacks, too. So do the kids. (06/08/2005)

By kidsNclutter
Buy Deli Meat and Cheese Ends
Deli turkey ends make great turkey salad! (03/02/2009)

By Jeannie
Read More Comments