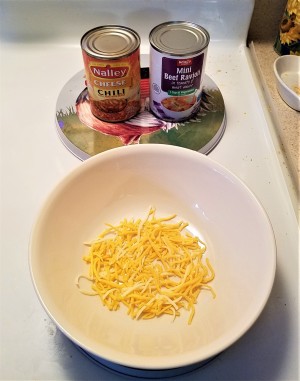 If you are like me, you love dishes like Chili, Corned Beef Hash and Ravioli. But sometimes, if you love cheese, it's hard to deal with the mess of it being sprinkled on top. It's sometimes too melted, or sticks to the side of the bowl, or worse, spatters on the inside of your microwave.
Well today I solved the solution and thought I would share it with you. I put the cheese in the bowl first. (Head exploding here)! This not only melts the cheese, and keeps it under the food, but clean up is almost not necessary.
Today was Ravioli, and tomorrow, who knows! But whatever it is, it will be yummy and easier to eat!