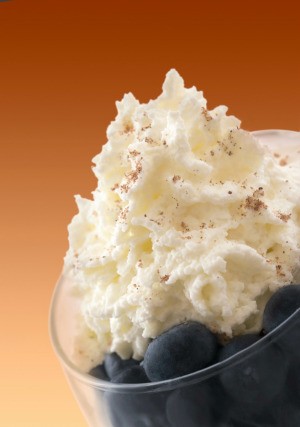 When using canned frosting mix, place the mix in a bowl and add 1/2 cup of whipped topping with it and whip with mixer for about a minute. It doubles the amount and makes it easier to spread.
By Mary C. from Newark, CA
Read More

Comments

One of the best toppings for a banana Popsicle is whipped cream. You can put vanilla wafers crumbs in a bowl and sprinkle them on top.
The taste is reminiscent of banana pudding and can't be beat for simplicity and fun.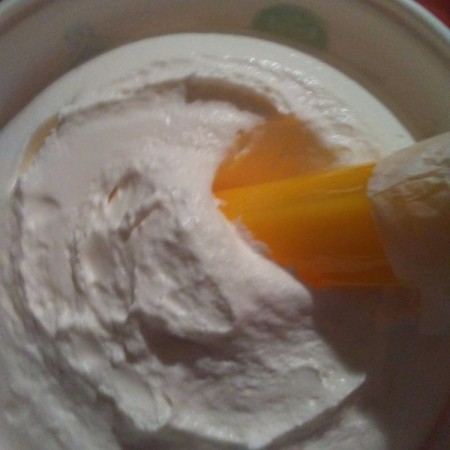 I would like to make a recipe, but am at a loss. What is Cool Whip please?
By Jean Heasley from Maffra, Victoria, Australia

Answers

Keeper
Gold Feedback Medal for All Time! 690 Feedbacks
September 3, 2010
0

found this helpful
I found this info.for you:
Cool Whip is a brand of imitation whipped cream named a whipped topping by its manufacturer. It is used in North America as a dessert topping and in some no-bake pie recipes. It was generally described as "non-dairy" as it contained no cream or milk and no lactose; however, it did contain the milk derivative casein.
Recently, both skim milk and light cream have been added to Original Cool Whip.

September 3, 2010
0

found this helpful
You can find Cool Whip in the frozen food section at your local grocery store in the United States, but I'm not sure about other countries. If you can not find Cool Whip, you can make homemade whipped cream and substitute that for the Cool Whip.

September 3, 2010
0

found this helpful
If you can't find Cool Whip try a search for stabilized whipped cream, it should hold up in recipes like Cool Whip.

September 3, 2010
0

found this helpful
Cool Whip is whipped cream. It is used as a topping on desserts. You can find it in your freezers section of your supermarket. Picture of cool whip included.


cettina
Bronze Request Medal for All Time! 64 Requests
September 4, 2010
0

found this helpful
Had the same problem here in Europe a while ago. Packets of whipped topping or birds eye dream whip or dream topping is fine to use instead.

Lilac
Silver Feedback Medal for All Time! 450 Feedbacks
September 4, 2010
0

found this helpful
Cool whip is not whip cream. It is fake whip cream.
en.wikipedia.org/.../Cool_Whip
It comes under my list of fake food and I wouldn't touch it with a ten foot pole no matter how good it is. I do not even use margerine though. The purpose of cool whip was for food companies to use up all the by products from the processed products they were making.
Then they pass them off to the public as "low cal" or "non dairy". It is kind of like non fat half 'n half. There is no such thing. I try to keep chemicals out of my kitchen.

September 4, 2010
0

found this helpful
Cool Whip is a brand name for frozen ready to use whipped topping.

September 4, 2010
0

found this helpful
There's a good reason you can't find it it your country. Your country is smarter and cares more about your health than the US does. Our country is run by agencies that get pay offs from large food factories that make fake food that is extremely bad for your health. Of course they make it taste good because nobody would pay for health destroying chemicals if they didn't "taste good".
By the way they taste good because the food industry has trained our taste buds from a very early age. Did anyone see Jamie Oliver's Food Revolution and what is happening to children's perception of what tastes good. It was shocking. Anyway stay with what Mother Nature created.
Read More

Answers

We do not have 'frozen whipped topping'. Would I just use whipped cream? Thank you for any replies.

Carolyn from South Africa

Answers

March 4, 2008
1

found this helpful
Here is a great substitute for Cool Whip:
STABILIZED WHIPPED CREAM
1 teaspoon unflavored gelatin
4 teaspoons cold water
1 cup heavy whipping cream (very cold)
1/4 cup confectioner's sugar
1/2 teaspoon vanilla
Combine gelatin and cold water in a small saucepan. Let stand until thick. Place over low heat, and stir constantly until gelatin dissolves; about 3 minutes. Remove from heat, and cool slightly.
Whip cream, sugar and vanilla until slightly thickened. While beating, slowly and gradually add gelatin to the whipped cream mixture. Whip at high speed until stiff.
Makes about two cups.

March 4, 2008
0

found this helpful
Do you have Reddi Wip (or another brand of whipped cream) in an aerosol can? It is usually in the cooler, close to juices or eggs. That could also be a substitute.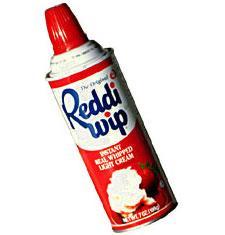 March 4, 2008
0

found this helpful
Do you have Coolwhip? I think that's what they meant. You could use whipped cream, but you would have to keep it refrigerated. It holds up better if you soften a marshmallow and whip it into the cream. Good luck!

joan pecsek
Bronze Request Medal for All Time! 66 Requests
March 4, 2008
0

found this helpful
Whipped topping is the same as non-dairy whipped topping(because it doesn't contain any dairy products). Cool Whip is only one of many name brands. There are also powdered products that you add milk to and beat with a mixer(Dream Whip and Nelson are some brand names). All of these products are interchangeable.

March 5, 2008
0

found this helpful
Thank you to all. What I usually do is add a tablespoon of instant vanilla pudding to 250ml cream when beating, so that it holds its shape. Just wasn't sure what this frozen whipped topping was! Many thanks for all the replies.

March 7, 2008
0

found this helpful
You don't want frozen whipped topping anyway, it's got a lot of partially hydrogenated fat in it. They make that by superheating oils and blowing hydrogen through it, so it's more like a plastic, and particularly toxic. Of course there is saturated fat in whipped cream, but the trans fat stuff is worse. It has been shown to have an affinity for brain tissue and it promotes cardiovascular disease more quickly by a different pathway than sat fat. It's very synthetic stuff and once you've tasted it, you'll want real whipped cream every time.
By duckie43. (Guest Post)
March 7, 2008
0

found this helpful
Cool Whip Substitute
Non-dairy Creamer [coffee creamer] can be whipped into topping like dream whip. I get the large jars at Sam's club& the directions are on them.
Its 2 parts creamer to 1 part cold milk: sugar &vanilla to taste. It takes 5-7 minutes of whipping at high speed until stiff. Keep on hand for when you are out of cool whip. Pretty handy, and so much cheaper than dream whip.
By Jenny (Guest Post)
March 7, 2008
0

found this helpful
You can also use Dream Topping (in the envelope) and prepare according to package directions.
Answer

this Question