March 4, 2008
0

found this helpful
Here is a great substitute for Cool Whip:
STABILIZED WHIPPED CREAM
1 teaspoon unflavored gelatin
4 teaspoons cold water
1 cup heavy whipping cream (very cold)
1/4 cup confectioner's sugar
1/2 teaspoon vanilla
Combine gelatin and cold water in a small saucepan. Let stand until thick. Place over low heat, and stir constantly until gelatin dissolves; about 3 minutes. Remove from heat, and cool slightly.
Whip cream, sugar and vanilla until slightly thickened. While beating, slowly and gradually add gelatin to the whipped cream mixture. Whip at high speed until stiff.
Makes about two cups.
March 4, 2008
0

found this helpful
Do you have Reddi Wip (or another brand of whipped cream) in an aerosol can? It is usually in the cooler, close to juices or eggs. That could also be a substitute.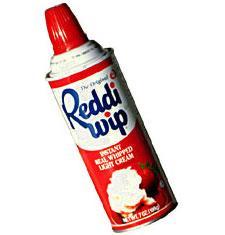 March 4, 2008
0

found this helpful
Do you have Coolwhip? I think that's what they meant. You could use whipped cream, but you would have to keep it refrigerated.
It holds up better if you soften a marshmallow and whip it into the cream. Good luck!
March 4, 2008
0

found this helpful
Whipped topping is the same as non-dairy whipped topping(because it doesn't contain any dairy products). Cool Whip is only one of many name brands. There are also powdered products that you add milk to and beat with a mixer(Dream Whip and Nelson are some brand names). All of these products are interchangeable.
March 5, 2008
0

found this helpful
Thank you to all. What I usually do is add a tablespoon of instant vanilla pudding to 250ml cream when beating, so that it holds its shape. Just wasn't sure what this frozen whipped topping was! Many thanks for all the replies.
March 7, 2008
0

found this helpful
You don't want frozen whipped topping anyway, it's got a lot of partially hydrogenated fat in it. They make that by superheating oils and blowing hydrogen through it, so it's more like a plastic, and particularly toxic. Of course there is saturated fat in whipped cream, but the trans fat stuff is worse.
It has been shown to have an affinity for brain tissue and it promotes cardiovascular disease more quickly by a different pathway than sat fat. It's very synthetic stuff and once you've tasted it, you'll want real whipped cream every time.
By duckie43. (Guest Post)
March 7, 2008
0

found this helpful
Cool Whip Substitute
Non-dairy Creamer [coffee creamer] can be whipped into topping like dream whip. I get the large jars at Sam's club& the directions are on them.
Its 2 parts creamer to 1 part cold milk: sugar &vanilla to taste. It takes 5-7 minutes of whipping at high speed until stiff. Keep on hand for when you are out of cool whip. Pretty handy, and so much cheaper than dream whip.