September 11, 2009
8

found this helpful
This tip is to help cut down on grocery cost with just a little time and fore-thought. Get heavy whipping cream (the best buy is a half gallon). Then, whip it with either an electric mixer or a whisk to your desired consistency (whipped cream has stiff peaks, while butter comes off the walls of the bowl and sticks to your whisk in a big clump). Experiment with what size bowl you use, as it does help.
Next, add your ingredient (use powdered sugar for whipped cream; salt for butter) to taste. Finally, put in smaller containers/waxed paper and store it in the freezer. The freezer keeps the butter/whipped cream longer. Take out each smaller portion and put in the fridge as needed. We get 3-4 lbs of butter from one half gallon, and it saves us a pretty penny.
Source: My husband.
By Bonnie from Spokane, WA
August 31, 2007
0

found this helpful
I was making a sundae and ran out of whip topping, so here is a good recipe for making whipped cream.
Ingredients
Heavy Cream
2 tsp. of Vanilla Extract
1/2 cup of sugar
Directions
Mix it all up together then refrigerate for 15 minutes (at least) then serve chilled.
By Rachel from San Antonio, TX
October 18, 2006
0

found this helpful
You can whip cream faster by chilling the bowl and beaters in the fridge before whipping. A few drops of lemon juice will help the cream stiffen.
Do you have any tips for whipping cream?
We do not have 'frozen whipped topping'. Would I just use whipped cream? Thank you for any replies.

Carolyn from South Africa
Answers
March 4, 2008
0

found this helpful
Here is a great substitute for Cool Whip:
STABILIZED WHIPPED CREAM
1 teaspoon unflavored gelatin
4 teaspoons cold water
1 cup heavy whipping cream (very cold)
1/4 cup confectioner's sugar
1/2 teaspoon vanilla
Combine gelatin and cold water in a small saucepan. Let stand until thick.
Place over low heat, and stir constantly until gelatin dissolves; about 3 minutes. Remove from heat, and cool slightly.
Whip cream, sugar and vanilla until slightly thickened. While beating, slowly and gradually add gelatin to the whipped cream mixture. Whip at high speed until stiff.
Makes about two cups.
March 4, 2008
0

found this helpful
Do you have Reddi Wip (or another brand of whipped cream) in an aerosol can? It is usually in the cooler, close to juices or eggs. That could also be a substitute.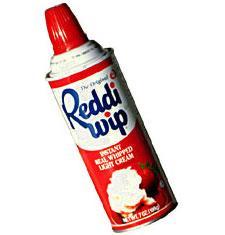 March 4, 2008
0

found this helpful
Do you have Coolwhip? I think that's what they meant. You could use whipped cream, but you would have to keep it refrigerated.
It holds up better if you soften a marshmallow and whip it into the cream. Good luck!
March 4, 2008
0

found this helpful
Whipped topping is the same as non-dairy whipped topping(because it doesn't contain any dairy products). Cool Whip is only one of many name brands. There are also powdered products that you add milk to and beat with a mixer(Dream Whip and Nelson are some brand names). All of these products are interchangeable.
March 5, 2008
0

found this helpful
Thank you to all. What I usually do is add a tablespoon of instant vanilla pudding to 250ml cream when beating, so that it holds its shape. Just wasn't sure what this frozen whipped topping was! Many thanks for all the replies.
March 7, 2008
0

found this helpful
You don't want frozen whipped topping anyway, it's got a lot of partially hydrogenated fat in it. They make that by superheating oils and blowing hydrogen through it, so it's more like a plastic, and particularly toxic. Of course there is saturated fat in whipped cream, but the trans fat stuff is worse.
It has been shown to have an affinity for brain tissue and it promotes cardiovascular disease more quickly by a different pathway than sat fat. It's very synthetic stuff and once you've tasted it, you'll want real whipped cream every time.
By duckie43. (Guest Post)
March 7, 2008
0

found this helpful
Cool Whip Substitute
Non-dairy Creamer [coffee creamer] can be whipped into topping like dream whip. I get the large jars at Sam's club& the directions are on them.
Its 2 parts creamer to 1 part cold milk: sugar &vanilla to taste. It takes 5-7 minutes of whipping at high speed until stiff. Keep on hand for when you are out of cool whip. Pretty handy, and so much cheaper than dream whip.
By Jenny (Guest Post)
March 7, 2008
0

found this helpful
You can also use Dream Topping (in the envelope) and prepare according to package directions.
Answer

this Question

...
May 4, 2005
0

found this helpful
Tips for making whipped cream. Post your ideas.
Answers
May 4, 2005
0

found this helpful
Whipped cream will be fluffier and hold its shape better if you use powdered sugar instead of granulated sugar when whipping.
By Patricia
By Beth (Guest Post)
May 4, 2005
0

found this helpful
It seems to whip quicker if you put the
bowl and mixer blades in the freezer
for about an hour...
Answer

this Question

...