This is a female mockingbird at the bird bath. They love grapes and cherries, and they also feed them to their babies. They chase all undesirables off the grounds, whether it's a cat, crow, or squirrel.
They are very smart, because one time I was chasing a crow with a pellet rifle. When I hit the crow, he just shook his feathers a bit. Two mocking birds were in the trees on each side of him. As soon as the crow moved, they went after him from both sides. It seemed as if they were waiting for me to do my thing, so they could step in and finish the job!
By Leigh from Litchfeild County, CT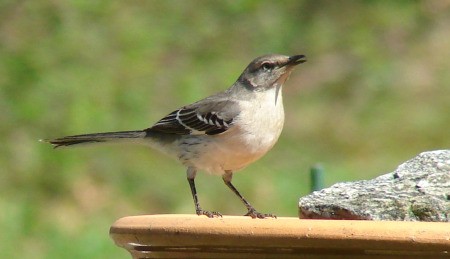 Comments
June 16, 2011
0

found this helpful
Top Comment
We had an old tree in our front yard with a mockingbird that lived in it. He was the meanest bird I've ever seen. When my cats went into the front yard, he'd swoop down and try to peck at their heads. He'd even try to land on their backs and grip them at their necks to peck at their heads.
They were really traumatized by him. It got to a point, where he'd swoop down at us when we went into the yard or stood in our driveway. We'd fight over who's turn it was to get the mail. I'd never seen anything like him.
June 16, 2011
0

found this helpful
Top Comment
We have known for a long time that crows are very intelligent birds. Researchers are proving that they are smarter than we ever dreamed, with intelligence approaching that of dolphins. In a controlled experiment, they exposed crows to scary stimuli (a man in a mask running at them while flapping his arms and yelling) They learned very quickly to fly as soon as they saw him. Then their babies matured and went to live in their own territories, with no further contact with their parents (the crows had radio chips on). The crows had no fear of people since people didn't threaten them.
The researchers would then approach the area each bird was in. The crows would catch sight of him, study him as he approached (he did not run, make a sound, flap his arms, or appear threatening in any way), then sound the alarm and fly away. This proved that the parent crows had somehow taught the 2cd generation to fear people wearing that mask. This is incredible. To torture such an animal is just horrible. I hope that you will reconsider, and put that pellet gun away. Mockingbirds are very smart birds, and you admire them - think how you would react if someone shot them. Crows are more intelligent, and do not deserve this kind of torture.
June 16, 2011
0

found this helpful
Top Comment
If birds (and especially mockingbirds) have a nest nearby and are raising little ones, they know that cats are just waiting for the opportunity to catch and eat their babies. It's quite natural for the birds to do anything they can to protect their young. Trying to chase the cats away and keep them away was nature working at its highest level.
Our wildbirds and animals are having a very difficult time of maintaining life as it is, and they continue to lose more and more of what was their natural habitat as man encroaches more and more into it. They really have few places to go to be safe, so they're coping in the best and only way they know in order to preserve the species.
As someone else pointed out, crows are wonderfully smart and can be taught so many things. They have a hard enough time in the wild these days without adding man to the list of their natural enemies.
Hopefully, you will put away that pellet gun, please. Save it for target practice on tin cans maybe.
Pookarina
The Mockingbird was enjoying our new fence in the garden. We have many of them in our area. And one can hear them too! They love to sound their presence as they fly and glide about the garden. Often they are on the ground foraging.
I like to imitate their call by curling my hand into a fist and "kissing" the side of it where the thumb is. I used to teach my students in science class about them and how to make the sound. Why don't you try it? And if and when you see a "Mockie" send him a sound. You will definitely get his attention.
By Bob35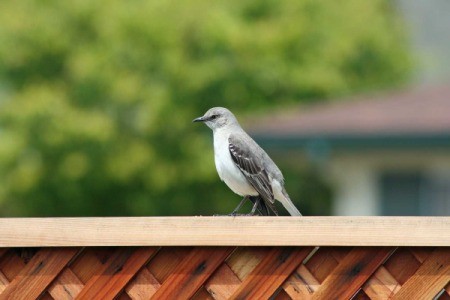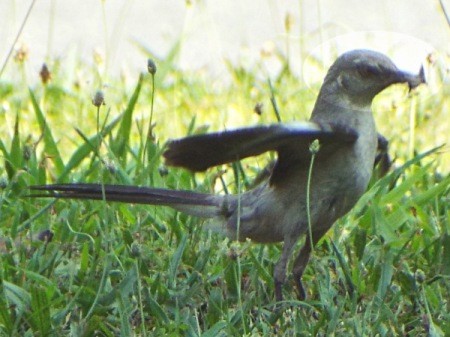 Photo Description
Please make allowances for the picture. It was taken by an amatuer at 100 feet and of a fast moving object.
Have you ever noticed mockingbirds scurrying about on the ground while intermittently raising their wings? After submitting this post, I'm going to do a little research and see just how correct my thinking is on this matter.
I do know that the underside of a mockingbird's wings has broad white bands. I believe when the bird lifts its wings and exposes the white bands to the very close ground, the white bands disturb and frighten insects in the immediate area, causing them to move quickly to avoid danger.
With the insects moving quickly, they are much more visible to the bird, insuring more prey being taken with less expenditure of energy. I believe this method of 'scaring up supper' is unique to this bird.
Now, I'm off to see how I scored. (Shouldn't take long. I'm already a little bit off).
Comments
August 20, 2017
0

found this helpful
Top Comment
I have mockingbirds singing to me every morning when on my neighborhood walk and it always lifts my spirits. They are such fun to watch but don't go near their nest!! Not even friends are allowed near that nest! Not sure about all their antics but they are fascinating.