Some time back, I posted a short article on how confusing some common flower names can be. The editors titled the article 'Avoiding Confusion with Common Flower Names'. My point was, sometimes one flower may have several common names and if this is the case, using the botanical name would rule out confusion. Here is an excerpt from that article:
"There are probably ten different flowers for which people use the common name 'Angel Trumpet', including 'Datura', 'Brugmansia' and several lilies including 'Crinum'. When they say 'Angel' or 'Devil Trumpet', I never know which flower they mean. In this case, I think it's best to call Datura by it's botanical name, Datura".
A lot of times, using the botanical name rules out any confusion. I think it's at these times, you should learn and use the botanical name, particularly if it's easy to pronounce.
Well, it seems my tip was a good one, after all. Some time after I posted my tip, ThriftyFun posted a guide titled 'Growing Moonflowers'. The article was accompanied by a picture of a white flower. That white flower has the botanical name 'Datura stramonium'. It is probably the most common variety of Datura, as there are many.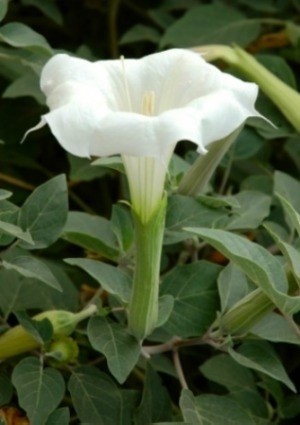 This description of the article was placed along side the picture:
'Add some night interest and a lovely fragrance to your garden with the beautiful moonflower which opens just before dusk. This is a guide about growing moonflowers'.
(I hope to make several corrections about flower names, here. My first is: The pictured flower 'Datura stramonium' does not have a "lovely fragrance". The slight scent it does have is rather unpleasant. The flower does not open just at dusk. It may open anytime, day or night).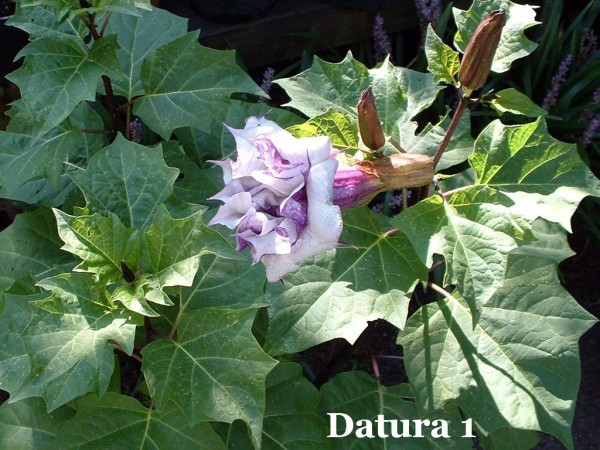 The Datura has several common names. It is often called 'Angel Trumpet' or Devil's Trumpet'. Other common names are 'Jimson Weed' and 'Loco Weed'. It was only after rereading this article and researching that I discovered the Datura has yet another common name, that being 'Moonflower'.
When this article was composed, it had included in it, an article I had previously posted, titled 'Starting Moonflower Vine Seed'. A question posed was 'Are Moonflowers Toxic to Animals'? 'Best Answer': Moonflowers are extremely toxic to all animals.
I found a very short video on YouTube about 'getting high' with Moonflower seed. The opening and closing pictures were of Moonflower vine seed. All pictures in between were of the seed or seed pod of Moonflower (Datura).
(If you are thoroughly confused by now, you are not alone. So was the author of that video and the editors at ThriftyFun (Bless their hearts), as well as a lot of other people who write articles about these two plants).
My second correction is actually a set of corrections: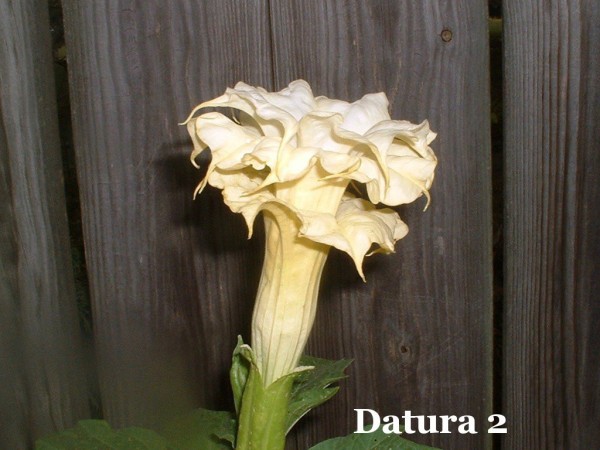 Datura, also called Angel Trumpet, Devil's Trumpet, Jimson Weed, and Moonflower does not open just at dusk. It has an unpleasant scent. Though not usually considered deadly, it is poisonous and contains hallucinogenic properties. Cattle have been known to 'go crazy' after ingesting Datura. That's how it came by another common name, Loco Weed.
On the other hand, Ipomoea alba, the Moonflower Vine also commonly called Angel Trumpet, Devil's Trumpet, etc. does open late evening. It's perfume is so pleasant, it is often planted by doorways. It is in fact related to the sweet potato and morning glory. The young leaves and the seed are eaten and prepared in several ways.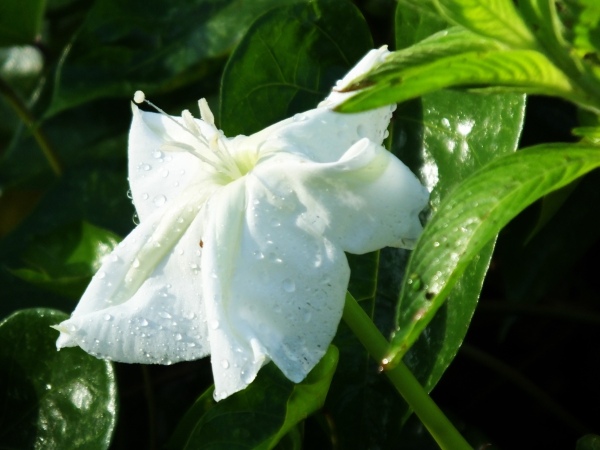 I think a lot of the confusion arose when Datura was given the common name, Moonflower.
In conclusion:

Datura (Moonflower) is not a vine. It is poisonous.

Ipomoea alba (Moonflower vine) is a vine. It is not poisonous.
So why would anyone call both these flowers by one common name, mainly Angel Trumpet? Not only is it confusing, it could be dangerous if you ate one of them.
If you grow either of these two flowers, or two others also commonly called 'Angel Trumpet', the pictures below may be of help. I still say "Sometimes, it's better to call a flower by it's botanical name, especially if that name is easy to pronounce". So, Datura is 'Datura", and Ipomoea alba is Moonflower vine.
I have also included links to pronunciation of the words Brugmansia, Crinum, and Datura. Say 'Brugmansia' ten times and you will own that word for life.