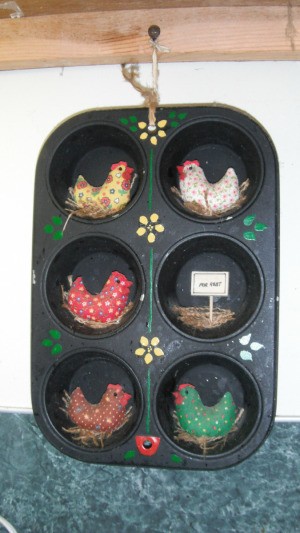 This is a hen's condominium. Notice that the empty space is for rent.
At one of our family reunions in the 90's, my aunt brought one of these to show. Just by looking at what she saw, my sister made some for school fund raisers. She had no pattern to go by.
I want to share this with people who do crafts as this would make a great Christmas gift. I could do it if I could figure out how to make the chickens.
This one was given to our daughter in 1997 as a wedding shower gift. It has been hanging in her kitchen for over 17 years and shows some dust and a few splatter marks on the tin. Otherwise it is still cute. Every time I look at it, it gives me great memories of my sister, whom I miss very much. She was so talented.
You will have to look at the picture and figure this one out for yourself. I don't have the talent to make these but I'm sure someone on Thrifty Fun does.