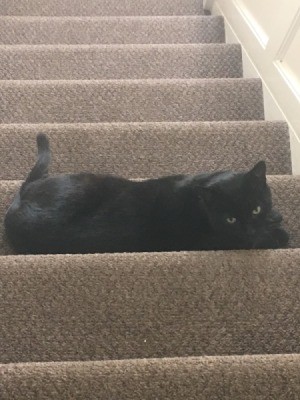 My cat is a black British shorthair who is five, but I've had him about 3 years. I got him from a animal shelter and he seemed very scared of humans and would lash out at people. I've been slowly getting him to be a lovely pet and since around 6 months ago he is a saint who never does anything to hurt people. I have also been gone for around six hours a day at work and also been gone for a week each year I've had him.
Normally I get my mate to feed him and stay with him for a bit so he stays comfortable. Now I had been gone around 4 and a half days looking after my mum who was a bit ill, but my mate wasn't in the country as he was on holiday.
So I brought a 90 day cat feeder so he I didn't have to worry about food. I also put around three bowls of water and also put a bucket outside so if I had to stay longer than expected I could get a neighbor to fill it up. When I got back he seemed timid and very very scared of me. Maybe even terrified. Which is not his character at all. So anyway I caught him and just cuddled him for a bit while stroking him. Which would normally calm him down, I also let him smell my finger in case he didn't recognise me. When I got the flea treatment out then he spazzed out worse than he used to and start hissing viciously. When I did it I let go and he ran away.
I'm quite worried as I recognise my cat's way of acting and he doesn't seem like the same cat at all. The weird thing is he seemed skittish and when he used to run away almost like a jog, but this was a full sprint.
I've put in a picture of him as well.