What do I do if my cat is peeing everywhere? He pees on clean clothes, my bed, in corners, on the carpet. We have had him for quite a while and were thinking about giving him away, sadly. I was hoping if you could tell me what I can do to help him?
By Kritty Kitty from Sacramento, CA
Answers:
My Cat Pees Everywhere
Your cat is trying to tell you that something is wrong with it. Cats will urinate outside the box for a number of reasons. Do you have the right size litter box? Do you keep the litter box clean? Cats are exceptionally clean animals and litter must be cleaned out every day and pan washed once a week. Are there some change at home which has upset it? Cats hate change like construction being done or loud visitors and new baby, or a new pet. The last is more serious. When cats develop various internal problems, especially URI, they will urinate and/or defecate outside the box because it hurts them to go to the bathroom and they associate the litter box with pain. Hence they try to avoid it. Before you do anything drastic be fair to it and take it to a vet for a check up. I hope this helps. There are many links on the internet to problems of improper elimination by cats. You can do a Google search and find out more. Good luck. (07/22/2009)
By Needtoknow
My Cat Pees Everywhere
Needtoknow's feedback is very good, especially about the possibility of your cat having a UTI. When one of my cats began leaving wet spots on the floor and near furniture I thought it was because he had not yet been neutered (he was nine months old) and took him to the vet for that procedure. When I was checking Spunky in at the vet's office I mentioned that he must be spraying because I was finding wet spots where he had been. The vet checked Spunky's urine and discovered the UTI, treatment of which solved the problem. He also went ahead and neutered the cat.

Spunky is now nine years old and has always been very finicky about the cleanliness of his litter box. If any other cat in our household (we have seven) uses "his" preferred litterbox he goes on the floor next to it in protest. He's fortunate that I love him enough to put up with his eccentricities and to clean up after him! (07/24/2009)

By Gingembre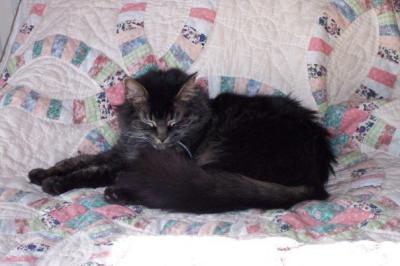 My Cat Pees Everywhere
My cat was doing this. The vet said he had developed an ulcer due to a new baby in the family. He is now on a mild tranquilizer and is fine! Take your cat to the vet. (07/24/2009)

By catastrofy
My Cat Pees Everywhere
If you are confident that this is a behavior problem and not a physical one that needs vet attention, there is something you can try. Get a large cage and put the cat in it with food, water and his litter box. Keep the cat in there for two weeks. It won't hurt the cat to stay in the cage, especially if this is a last-chance effort. He won't like it and will complain, but it won't hurt him. Keep the litter box cleaned at least twice a day. Keep the cage in a comfortable place for the cat, not a dark basement or garage where it will be alone. This can "retrain" the cat.
During this two weeks, make sure you have cleaned all of the spots thoroughly, you won't want him coming back in and being attracted to his old spots. Natures Miracle is a wonderful product. I also recommend using a black light to find spots you didn't know were there. After that two weeks, let the cat back into the house and put the litter box where it belongs. Make sure the cat has 100% access to the litter box, that it isn't in a room where the door might get shut or something. You could also confine the cat to one room with the litter box in it until you want to try whole-house access. Give him a chance and see if he does OK from there. It's worth a try. (07/24/2009)

By Abrigg
My Cat Pees Everywhere
Take your cat to the vet ASAP. UTIs can be fatal to male cats. (07/25/2009)

By Maryeileen