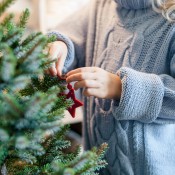 Once upon a Christmas time in a little college town there lived college couple with a baby son. In between classes and jobs and studying late, they had bought gifts for parents, sisters, brothers and baby too, of course. They left themselves, each other, for last.
It was the week before Christmas. Saturday's groceries put away, they glanced at the checkbook. "Barely enough to buy gas," he said. Sadly she looked at the ornaments she had made for a tree not yet bought. She put on her coat and went out for a walk. She felt very alone.
It was hard to bear not having a Christmas tree, not even a little one, and not being able to buy her much loved young husband some token of her affection. Her eyes wandered across a neighbor's driveway she was passing. There in a heap lay a tiny cedar tree, the top two feet, the neighbor said, when she knocked at the door, of the tree her husband had brought to work. "We were going to throw it away," said the neighbor. "Could I have it?", she asked. "You certainly may."
At home the wife decorated it with painted cookie shapes. Husband formed a foil star for the top. It drooped a bit, and it was wonderful. They slept peacefully.
Sunday they awoke to find bread at the door. Delicious, sweet Christmas bread" Santa's helpers" had left it secretly, a card read. They tasted the tender, iced morsels of bread as they looked at the little tree. They wondered at the love of the act that met their need.
Monday afternoon, she went to get the mail. She was surprised when she opened her father's letter to find a check. "One hundred dollars," enough for a bounteous Christmas for both of them, and more. In wonder, they looked at the check and the tree as they finished the bread that night. Their hearts caught. Magic was in the air.
A few days of final exams later, they parted to seek out the gifts. Practical ones like Old Spice shaving cream and after shave, which she loved on him. A wooden rolling pin he knew she wanted for pie crusts, dumplings and Christmas shaped cookies she baked. A warm cap for him, fur-lined (a luxury!) gloves for her. They were done.
Three wishes, she thought; three wishes only expressed in thought. Three wishes fulfilled. A tree, secret friends who cared, money for gifts for her beloved, from a father she had tried so hard to please.
She began to be aware of a spirit of love; someone, something out there really cared. Had they been touched by God, the Father, above?
"Every good ... and every perfect gift is from above, coming down from the Father of lights ..." James 1:17.
By Vivian P.
Do you have a frugal story to share with the ThriftyFun community? Submit your essay here: http://www.thriftyfun
Comments

Robyn Fed
Silver Post Medal for All Time! 398 Posts
December 10, 2011
0

found this helpful
I love this story! Blessings to you!
Robyn

December 10, 2011
0

found this helpful
Bless your heart. Thank you for lifting my spirits. I just looked at my checking account to find not much left to buy a few cherished family members a gift for Christmas.
I am blessed, thank you.

December 11, 2011
0

found this helpful
What a sweet, sweet story! Thank you.

December 12, 2011
0

found this helpful
Very touching and inspiring Christmas story! Thank you for sharing it. Merry Christmas!
Read More

Comments