May 19, 2015
0

found this helpful
I grew up in the country and as the seasons changed, so too did the flowering weeds. Weeds are nature's flowers and fields of dandelions, wild daisies, creeping charlie, snapdragon, buttercups, etc are a soothing delight to the eye and spirit.
A walk in the bush displays the trilliums, jack in the pulpit, lady slippers and so much more. Even nature's weeds are beautiful.
May 24, 2015
0

found this helpful
Dandelions are so beautiful ... Thank-you for remembering to take your camera the next day so you could share this ... ;-)
May 28, 2015
0

found this helpful
The Dandelions flowers are about gone and it's leaving the balls of seed, which we as children used to love to pick and blow.
Now I'm enjoying the daisies, which are scattered along the roadside. Still no sign of the roadside mowers.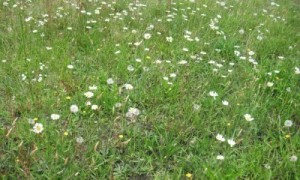 May 28, 2015
0

found this helpful
Happy Day!! The roadside mowers just went by. I got the litter picked up just in the nick of time!
May 29, 2015
0

found this helpful
Mowers don't come often enough? Here in Missouri it's "once a summer... whether we need it or not". :-)
May 29, 2015
0

found this helpful
4TruLady, is the litter picked up just before the roadside is mowed? I hate to say it but if that was done here, the roadsides would be mowed only about once a year.
Picking up litter is a slow process and it takes a lot of people to do it for the roads to stay clean. Mowed over litter is so ugly, but that's what we are faced with after the mowers come through. They come through about every 6-8 weeks during the summer and this makes the roadsides safer for motorist.
May 29, 2015
0

found this helpful
We don't get a lot of litter along the main roads here, and we have "adoption" programs to keep them cleaned up. The agreement is that you must clean your adopted section up at least twice a year.
When you ask the highway crews (very small town - about 900 people roughly - everybody knows everyone else here) they will tell you that their budget shrinks every year and they can only mow once a summer.
The taxes keep going up, so it's hard to figure out...
May 29, 2015
0

found this helpful
That's great. I wish I could give your feedback a thumbs up.
I hope that I have not given the impression that the people in our state are trashy litterbugs. That's not the case. I have found that most of the stuff I pick up comes from unsecured loads. Nothing I find on the roadside surprises me.
May 30, 2015
0

found this helpful
Oh no Litter Gitter, you didn't give that impression at all! Also I hope I have not given the impression that Missouri is a trash-free utopia either! It's just that here in our area the local citizenry keeps the roadsides fairly nice (we get a lot of thru-traffic due to a large lake nearby, and we realize the benefits that brings to the local economy).
There's only one road in this area I can think of that gets a lot of trash, and it's a back road (gravel), and there is one particular fellow living on that road who doesn't care to pay for trash service, so he "cleans out his car" on the way to and from town...Very Sad!
May 30, 2015
0

found this helpful
I love talking trash. It's my passion. But I don't want to run it in the ground so I'll just add one more comment that I believe is helpful in understanding why we have so much litter.
Litter is a problem all over the world. It will never completely go away. Keep America Beautiful has determined that litter comes from seven different sources.
1. household trash handling and its placement at the curb for collection.
2. dumpsters used by businesses.
3. loading docks.
4. construction and demolition sites.
5. trucks with uncovered loads.
6. pedestrians.
7. motorist.
and I will add another one. Folks using the bed of their trucks for a trashcan.
Sometimes, littering just happens but most of this can be controlled just by taking time to put a little thought into what we are doing.
Let's all work together to keep America beautiful.