Crust:
2 cups graham cracker crumbs
1 stick butter, melted
Mix together; press into a 9x13 pan. Chill one hour.
Filling:
2 cups confectioner's sugar
2 eggs
1 tsp. vanilla
2 sticks of butter
Cream together. Spread over crust. Chill one hour.
Topping:
4-5 ripe bananas, sliced
2 pkgs. frozen strawberries, drained
1 cup chopped pecans
1 can crushed pineapple, drained
1 cup whipped cream or 8 oz. Cool Whip
Place sliced bananas over filling; spread strawberries over bananas, pineapple over strawberries; cover with whipped topping. Sprinkle with 1 cup chopped pecans. Add cherries, if desired.
By Robin from Washington, IA
This quick and decadent dessert will have you dreaming about it.
Ingredients:
3 ripe bananas
prepared 9 inch crumb crust
2 egg yolks,
1/3 cup sugar
1 (8 oz.) pkg. whipped cream cheese
1 tsp. rum extract
1 cup heavy cream
1/3 cup confectioners sugar, sifted
1/2 tsp. vanilla
Directions:
Slice three ripe bananas into a 9 inch prepared crumb crust. Beat 2 egg yolks, cup sugar, cream cheese, and rum extract until smooth. Spoon mixture over bananas.
Whip heavy cream, sifted confectioners sugar, and vanilla together until stiff peaks form. Spread over filling swirling into peaks. Chill 6-8 hours before serving. Makes 8 servings.
By Rebecca from Melbourne, FL
I made this as a kid friendly dessert contribution for a pot-luck I attended. It was very popular with the kids. You could add butterscotch, strawberry, pineapple, or other traditional ice cream sundae toppings if you wish.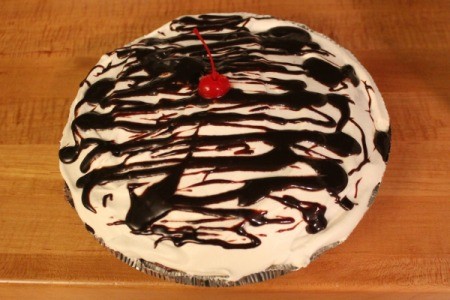 Read More...
I have several fabulous "no bake" pie recipes with either raw egg yolks or raw egg whites in them. My friend tells me she uses organic eggs just fine in her recipes calling for raw eggs. I know the fuss about salmonella, so do I just sadly discard these wonderful recipes?
I almost posted to a recipe request for Banana Cream Cheese Pie this morning and realized it had raw egg yolks in it. Has anyone substituted dry egg powder for the the raw eggs or what have other readers done?
Rebecca from Melbourne, FL
Answers
By Jan (Guest Post)
April 4, 2008
0

found this helpful
You can buy Pasteurized eggs - they're safe!
April 5, 2008
0

found this helpful
I just read recently that although it is possible to have and egg with salmonella, it is very unlikely since about 1 in 8000 eggs have it.
Harlean from Arkansas
April 5, 2008
0

found this helpful
Not all organic eggs may be safe, but those straight from a local farm which really allows the hens pasture are most likely safe. You're more likely to get Salmonella from carving chicken, esp. if not organic.
By Ellie (Guest Post)
April 6, 2008
0

found this helpful
I've eaten (drank) raw eggs (as in egg flip) and my cat loves one now and then too! I've never had salmonella from this.
Hen's eggs are basically safe. However duck eggs should not be used raw as they carry a greater risk of salmonella.
April 7, 2008
0

found this helpful
Thanks for Melina Lee's website which includes pasteurizing eggs. That is very helpful.
And now, Rebecca, please send in your Banana Cream Cheese pie for us:) Thanks
Answer

this Question

...