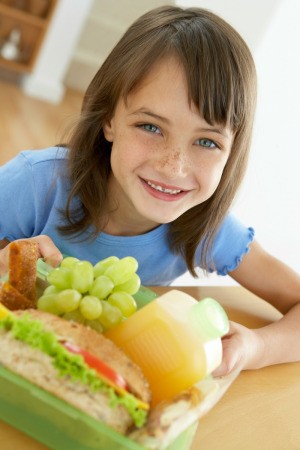 My 1st grader likes taking his own lunch. His school is a "nut free zone", so no peanut butter and jelly. It's amazing how many products have traces of peanuts in them. I'm looking for ideas for his lunch, fruit, veggies and cheese are what he usually takes.
Donna from Brandenburg, KY
Answers
By (Guest Post)
August 27, 2007
0

found this helpful
How about beef jerky for a snack? Could he bring soy nuts? (They aren't really nuts?) Try anything dried - fruit, even veggies and things they freeze dry for camping. Crackers? They now have packed lunch snacks with ham, etc., too, but they are pricey. Could you make your own? You could also explore Japanese snacks, etc. They have lots of dried things, like dried peas!
By GTIChick (Guest Post)
August 27, 2007
0

found this helpful
I've been researching bento lunches for my toddler, and some moms have been doing cream cheese and ham rolled in tortillas, boiled eggs that have been molded into shapes using Japanese egg molds, fruit kebabs, and rice balls. I just got some of the supplies from an eBay seller, but if you have an Asian market near you, they might have some items. If you do a search on "bento blog" you'll be able to see photos and descriptions of lunches people have created.
By jean (Guest Post)
August 27, 2007
0

found this helpful
Does he like yogurt? If he does, freeze the carton and it will be thawed and ready to go at lunch. You could make quesadillas with cheese, beans, meat, or wraps with the small size tortillas. If he likes canned or homemade baked beans, they could be sent. If he'll eat cold pizza, send a slice or two, leftover or homemade. A bagel and cream cheese(1/2 if he's not a big eater) sandwich. Hope this is of some help.
August 27, 2007
0

found this helpful
You're a sweet, patient mom to go along with this. I hope in the older grades that the child who has a nut allergy learns to deal with it himself. It makes me wonder - what about the child who has milk, soy, egg, wheat, corn, etc. allergies?
Read More

Answers