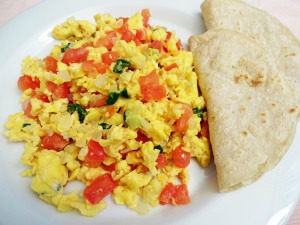 For an omelet bar, set out various dishes containing such things as: chopped onions, red and green peppers, mushrooms, jalapeno peppers, various grated cheeses, plus one egg for each person - whatever you would like in an omelet. In the meantime, have a large pot of water filled halfway, bring to a boil, then turn down to medium-low heat.
Each person takes a small size freezer bag and puts into the bag whatever they like in an omelet, plus one egg. Squeeze gently to break the yoke and mix egg with other ingredients. Press the bag gently to remove most of the air and make certain that the bag is closed tightly.
Gently place the bag into the simmering water for four - six minutes or until the egg has cooked to your liking.
Carefully remove from the water and when you place this on a plate, you have a perfectly shaped omelet made to your liking. Numerous omelet bags can be cooked at the same time with no cooking clean-up.
This is so easy to do that when our oldest grandson was only six, we taught him to make his own.
By Elayne Mills M. from Dalhousie, Nova Scotia
Read More

Comments