Cooking Eggs in a Plastic Bag
Although many people have cooked eggs directly in a plastic zip top bag, it is not recommended. Both Ziploc and Glad make steam bags that are intended for cooking purposes and will not create any harmful toxins.

Solutions
Share on ThriftyFunThis page contains the following solutions. Have something to add? Please share your solution!
When having a crowd over for breakfast/brunch instead of cooking scrambled egg orders with everyone wanting different ingredients, get everyone's order and put in plastic bags with each persons name on top or assign a number to each person. Put all the bags in a deep pot of hot boiling water. Boil for 5 to 10 minutes, depending on how many bags you boil. Saves on cleanup with everyone having warm food.
Source: My daughter Alisha served eggs this way for her coworkers, don't know where she got it. She is always coming up with strange ways to cook. Doesn't like the cleanup.
By Judith from Summersville, WV
Comments
Read More Comments
We like to make "bagged omelettes" when either cooking or with a large group. In a ziplock bag, we crack 2-3 eggs and add all the fixin's: cheese, onions, bacon or sausage bits, tomatoes, peppers, etc.
Read More...
Questions
Ask a QuestionHere are the questions asked by community members. Read on to see the answers provided by the ThriftyFun community or ask a new question.
If it's not safe to use Ziplock bags for your eggs in a bag, what do you suggest we use?
By SMG
Answers
January 4, 2012
0

found this helpful
Best Answer
I went to the Johnson company and this is what I read.
Ziploc® Zip 'n Steam® Microwave Cooking Bags combine the taste and nutritional benefits of steam cooking with all the convenience of your microwave.
Ingredients:
Makes 1 Serving
3 eggs
3 fresh mushrooms, cleaned and chopped (about 1/4 cup)
2 Tablespoons shredded Gruyere or Swiss cheese
2 cherry tomatoes, quartered
1 Tablespoon butter, cut into 4 small pieces
1/8 teaspoon salt
Directions
1.Fold top edge of a Medium Ziploc® Brand Zip 'n Steam® bag out and down to keep bag open. Crack 3 eggs directly into bag. (Alternately, crack eggs into small bowl and pour into bag.)
2. Add the mushrooms, cheese, tomatoes, butter and salt to the bag
3. Seal bag. Squeeze eggs to break yolks. Continue squeezing or gently shaking bag until ingredients are thoroughly combined..
4. Place bag in microwave. Cook on full power for 2 1/2 minutes or until eggs are fully cooked and firm throughout with no liquid egg remaining. If needed, continue microwaving at 30-second intervals until omelet is done.
5. Allow bag to stand for 1 minute before opening.
6 Carefully open bag and slide out omelet. Fold omelet and garnish with chopped parsley if desired.
The answer is the right bag from Ziploc
January 4, 2012
0

found this helpful
Best Answer
You can use the special microwave cooking bags but do not reuse them for food again after the first use. There are also assorted types of reusable microwave egg cookers available and can be found in many grocery stores or stores like WalMart and Target. They include omelet makers, poachers, boilers and individual egg cookers. Here are photos of examples:
January 4, 2012
0

found this helpful
Best Answer
Why use plastic? I have some small salad bowls. I put a tiny drop of oil in the bottom, crack an egg on the side, slide it into the bowl. Put bowl in microwave, cook. Ready for table, no extra dishes and best of all no plastic.
Frugal and healthy
January 5, 2012
0

found this helpful
Best Answer
If you're going to do omelets or burritos for a group, just prep your add-ins ahead of time, put into individual bowls with spoons/forks, and scramble all your eggs at once. let everyone put however much of whatever onto their plates or a tortilla, and you're good to go. This works really well for camping trip breakfasts as well as sleep-overs.
Answer

this Question

...
I would like the recipe for cooking eggs in Ziploc bags in a microwave?
By Gordon
Answers
April 16, 2012
0

found this helpful
Best Answer
Believe me, you don't want the recipe! It's a big no no to do that because harmful chemicals leach out of the plastic bags and into your food. Even the manufacturers have it listed on their website FAQ pages that it is not recommended. You can purchase special inexpensive, reusable microwave egg cookware at places like WalMart and Target or online.
It's also a no no to use ziplock bags to boil food unless they are listed on the package as a boil bag. And even boil bags can't be used in the microwave.
Here's a link that will show you pictures of a small assortment of the many types of microwave egg cookers available:
www.best-deal.com/.../?utm_source=msn&utm_medium=cpc&utm_term...
April 16, 2012
0

found this helpful
Best Answer
Whoa! I've NEVER heard of cooking eggs in Ziplock (or other) bags in a microwave! To add to Deeli's comments ... eggs can burst in a microwave oven and make a heckuva mess! Sealing in a plastic bag would be no better.
Never put whole eggs in the shell in a microwave, and always at least poke the yolk as well. I "nuke" eggs all the time. I break the egg(s) into a bowl and just whip with a fork. Depending on the power of the oven, it takes about a minute (plus or minus) for one egg. There are many recipes ideas for eggs this way, but I won't go into that here. Suffice to say, DO NOT try to cook eggs in plastic bags or sealed containers in a microwave.
April 16, 2012
0

found this helpful
Best Answer
I think you mean 'omelet in a bag'. For one person, put on a sml or med pan with water and bring to a boil. In a zippy quart size freezer bag, put one or two eggs not in shell, add whatever omelet ingredients you like, ham, cheese, tomatoe, etc.
not a lot. Squish the bag with your hand to mix the omelet. Close the bag and put it in boiling water (standing up) and cook for 13 min. Remove bag carefully, open, and the omelet will roll out on to your plate. I make them frequently.
Answer

this Question

...
How do you make homemade omelets as a kid's project in a Ziploc baggie?

By Dona from Richland, WA
Answers
March 19, 2011
0

found this helpful
Best Answer
It is not recommended to use regular ziploc or other zip top bags in boiling water. From the Ziploc faq:
# Can I boil in Ziploc® Brand Bags?
No. Ziploc® Brand Bags are not designed to withstand the extreme heat of boiling.
Ziploc does however now make a microwaveable bag called Zip 'n Steam. They have a similar recipe using those bags on their webpage...the only difference is you do it in the microwave instead of boiling water. (They don't recommend boiling those bags either.)
Answer

this Question

...
These convenient individual omelettes are great for sleepovers, campouts or quick breakfasts for the whole family. Be sure to use bags that are intended for higher temperatures. This page contains omelette in a bag recipes.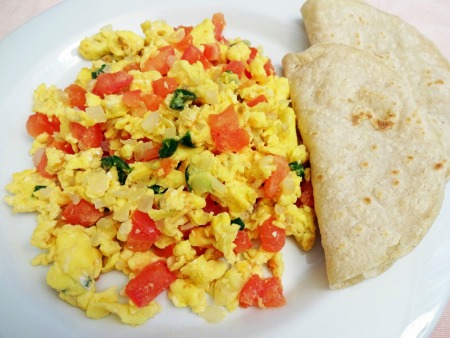 Archives
ThriftyFun is one of the longest running frugal living communities on the Internet. These are archives of older discussions.
An easy way to cook scrambled eggs with no mess.

Put a 2 quart sauce pan filled with water to about the 3/4 level on stove to boil. Scramble 2 eggs in a bowl and add about 1/3 cup milk or more and beat. You can add cheese, ham, onions, etc. at this time. Pour into a quart plastic bag and seal. Immerse plastic bag in boiling water in pan being careful not to touch the edges with the bag Cook until no longer runny, approximately 5 minutes or so. Take the bag out of the water and carefully open it. There will be lots of steam. Turn upside down on to a plate and serve.

These are the fluffiest scrambled eggs you ever have made. It's unbelievable. And no mess.

By Margaret from Dudley, MA

Answers:
Scramble Eggs In Ziplock
Be really careful cooking in a Ziploc bag that is designed for storing instead of cooking. Cooking at a high temperature can break the chemicals in the plastic down, causing them to get into your system, and make you very sick. ( Found this out the hard way).

Just make sure to use a bag that is designed for the high temperature that is needed for cooking foods. (10/06/2008)

Scramble Eggs In Ziplock
I checked Google -- Ziplock company says its bags are dangerous to your health when used this way. I can think of no reason why a canning jar couldn't be used? In any case I'll try it. (10/06/2008)

By Tomatohanger
Scramble Eggs In Ziplock
I agree, you should never boil anything in a plastic bag that wasn't made for that purpose. There are different grades of plastic (thickness, etc.). That's why some plastic dishes are microwavable and others aren't. (10/07/2008)

By Maryeileen
Scramble Eggs In Ziplock
I do this too. You can skip the step with the bowl, crack the eggs into the bag and squish them up. (10/21/2008)

By Lisa from Lena, WI.
Advertisement
Published by ThriftyFun.
© 1997-2020 by Cumuli, Inc. All Rights Reserved.
https://www.thriftyfun.com/Cooking-Eggs-in-a-Plastic-Bag.html