October 1, 2012
0

found this helpful
Best Answer
Write or better typewrite a list of all your craft ideas giving each one a short but explicit title then give a number to each of your hanging file and assigned to each craft idea on your list the number of the hanging file where it will be filed. Write that same number on each looseleaf paper.
This way you don't have to find any logical order you just refer to your list every time you want to find one of your craft ideas. If you can type your list using an Open Office text document, you can even look for for a precise craft idea using a search by keyword in your list. Hope this helps!
April 9, 2018
0

found this helpful
Great idea. I would also suggest you sort them by the time they take. Or the materials. I did this and it really helped. Hope it helps you. PBP
www.thriftyfun.com/Craft-Project-Tickler-Box.html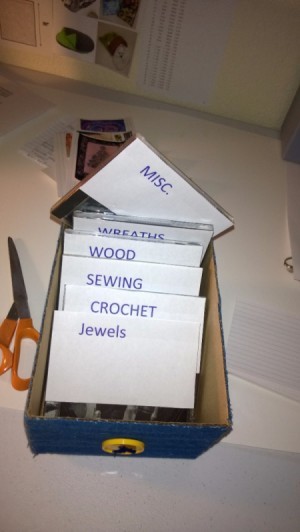 September 24, 2012
0

found this helpful
I can tell you what works for me. I file them by type of activity. So if I want to crochet, I go to that file (which I have broken down into files for afghans, clothing, doilies, etc).
If I want to make a quilt, I have files for pieced quilts and appliqué quilts. Hope this helps,
September 25, 2012
0

found this helpful
What I did was: angels, shells, dogs, flowers, whales, earrings, bracelets, etc. It's just easier for me to quickly grab the folder of the idea I want =)
October 1, 2012
0

found this helpful
I have done what you want to do in hanging folders which I keep in plastic file boxes on wheels. I organized mine by theme. Starting with CRAFT TECHNIQUES, I did as follows: Angels, Babies and Children, Cats etc. Some folders are also color coded, red for Christmas, orange for Halloween and so on. I find the theme idea works for me.
October 1, 2012
0

found this helpful
I file my craft patterns and ideas into categories by "events" or "holidays"; the primary files/categories are assigned colors. I then make secondary files (in matching colors) by specific ideas. For example: MAIN FILE: Birthdays. SECONDARY FILES: Theme ideas, Favors, Decorations, etc. (Since I make a majority of my crafts from recycled items, I have a third layer of files designated by type of materials: paper, CDs, plastic bottles, aluminum cans, etc.).
The key is keeping up with all the ideas! When I make something, and it passes the test of being easy to teach, I add it to my list of workshop choices. If it's not easy, or would take too long to make for those who want "quick" ideas, I put aside those projects for me to make for myself or family or friends!
Good luck; you'll probably have to "tweak" whatever filing system you end up choosing. That's what makes it fun!