Organizing Necklaces
Solutions
Share on ThriftyFunThis guide contains the following solutions. Have something to add? Please share your solution!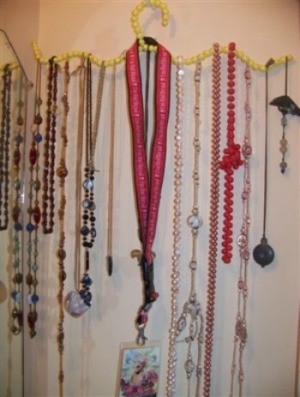 I store my necklaces on a beaded wire coat hanger, that have recently started to be sold at the Chinese bargain stores, it can be bent as I have done into a WAVE and it sits flat on wall in the wardrobe dresser. We have someone called Pink in Australia too (haha!) and the round thing is a fox whistle.
By julie from Sydney, Australia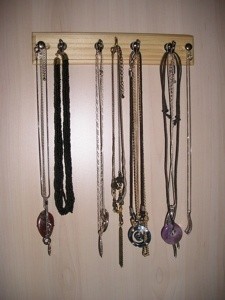 My necklaces kept getting tangled up in the box so I super-glued this piece of wood, with hooks attached, to the inside of the wardrobe door. It is much handier and I can see at a glance what I have.
By marion davidson from Scotland
If you have a towel bar that is not being used, put it to good use and organize your necklaces by hanging them on it. It will show them off, they won't get tangled, and that favorite necklace will be easy to find in a hurry. :)
By CDC from FL
Do you have extra wire hangers lurking in your closet? Use them to store necklaces and bracelets! Just twist apart the top of the hanger by the hook and slip on some bracelets and necklaces. Twist the hanger closed again and hang it up in your closet. It keeps your jewelry from getting tangled and they're out of the way too.
By abrupt_silence from Seattle, WA
OK, ladies, this tip will be very unpopular here on ThriftyFun. Don't shoot the messenger, please. :) I learned this from my teacher in beading class. If your necklace is beaded on any weight of beading thread, even a rope, it will stretch out of shape if you hang it on anything! Therefore, lay them flat.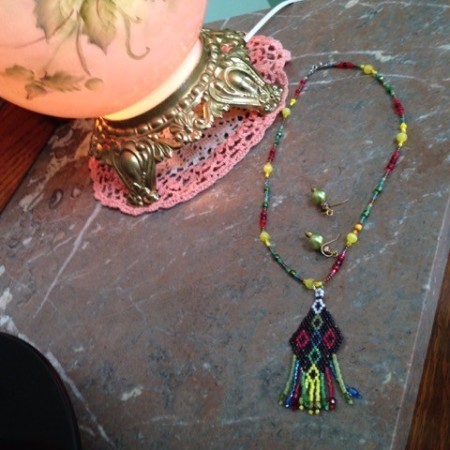 I like to use mine as decorations around the house. I lay them out beside a lamp and on the fireplace mantle, etc. I make my own, so, of course, I think they are show worthy.
Source: My beading teacher in Corvallis Oregon.
November 25, 2009
1

found this helpful
To keep your necklaces from tangling, hang them on the wall. Get a medium size nail, hammer the nail into the wall, then glue a large bead onto the end of it. Voila! A necklace hanger.
By Laurie from Portland, OR
I asked a clerk at a jewelry store. She said to clasp it, then put the necklace in a tiny zip lock bag with only the clasp part poking out. Close the zip seal. That's what they do.
Read More...
March 31, 2005
0

found this helpful
To keep necklaces organized, use a 12 by 4 inch piece of wood, (thick enough to screw hooks into without them poking out the back) and medium to large screw-in-cup holders. Add picture hangers to the back of the wood.
Read More...
October 13, 2004
1

found this helpful
Do your chains and beads get all tangled up? Mount an adjustable wooden cup rack on the back of your closet door. Now you can hang your necklaces tangle free. By Debra in Colorado
Read More...
Questions
Ask a QuestionHere are the questions asked by community members. Read on to see the answers provided by the ThriftyFun community or ask a new question.
I am looking for a way to store my necklaces. Jewelry boxes are so expensive. Right now I have a jewelry box but my necklaces get all tangled up in the drawer. Any one have any suggests for a neat and nice way to store my nice necklaces? I also have two cats, so they can't be within reach of them either.
Thanks in advance!
Kathy from Wooster, Ohio
Answers
December 7, 2007
0

found this helpful
I've heard of people putting cup hooks on a board and hanging it on the wall to hold their necklaces. You might want to try that. Good luck and God bless you.
By Cathy from Townsville, QLD (Guest Post)
December 7, 2007
0

found this helpful
Attach a pegboard or cork board to a wall, and hang the necklaces from hooks or if they are small enough, push pins in the cork board. Alternatively, make and use a jewelry roll where the necklace is placed flat on fabric, and it is rolled up like a pinwheel sandwich.
By Carol Lee (Guest Post)
December 8, 2007
0

found this helpful
I use a hanger in the back of the closet, if you can believe that. I like the plastic coated wire hanger. Hold the chain in front of the bottom cross bar of the hanger, pull the bottom of the chain behind and then over the cross bar and under the top of the chain.
Can you see it? Ah, my husband said this is called a half-hitch knot. It works great & nothing gets tangled You can tie a piece of yarn between the chains and they really stay apart.
December 10, 2007
0

found this helpful
How about using a mug tree? The upright stand with little pegs to hang cups on.
By lisa (Guest Post)
December 23, 2007
0

found this helpful
Lay a tissue out and roll your necklaces up in them to keep them from getting tangled and staying dust free.
By klee (Guest Post)
March 23, 2008
0

found this helpful
If your closet is an ok size I took a couple of nails and put them just on the inside of my closet(not covered up by clothes) I hang all of my necklaces on them. If you can't do nails but some of the peel and stick hooks (by 3M). They work great!
By Coconut (Guest Post)
April 26, 2008
0

found this helpful
I would just set them on your dresser. That works the best! :)
May 23, 2008
0

found this helpful
I love the drinking straw idea. I'm getting ready to go on a trip soon. I'll be heading to the store for drinking straws! Thanks!
By kathleen (Guest Post)
January 12, 2009
0

found this helpful
You need to get a small jewelry chest. It has hangers for everything, rings & etc.
January 13, 2010
0

found this helpful
Put one in a straw, or put hand coffee hocks onto the wall behind the door, or wrap them up in tissue, or nail nails on the wall and hang them.
October 8, 2017
0

found this helpful
WAAAY too many necklaces for that. And even the jewelry box that I have, with a ring of hooks to hang from the top, they get all tangled in the floor of it.
I've never found a jewelry box with enough organization for even a small number of necklaces.
Answer

this Question

...
We need some attractive ideas for displaying necklaces. We want to display them, possibly in the bedroom, or in the hallway. Can anybody offer some good ideas?
By oak-trees from Denver, CO
Answers
May 21, 2011
0

found this helpful
Lit shadow boxes, put hinges on the front so they are easily accessible, you have art & easy access to your jewelry when you want to wear it
May 21, 2011
0

found this helpful
Lit shadow boxes, put hinges on the front so they are easily accessible, you have art & easy access to your jewelry when you want to wear it.
May 22, 2011
0

found this helpful
Try one of those accordion folding cup racks with pegs. The necklaces are easily seen, and easily retrieved.
May 23, 2011
0

found this helpful
If you own your home, I would use pretty towel bars. If you rent, just know you will have to leave them or repair the holes at some point.
I once took some old lamp chain, the kind you used to find on the older ceiling lamps that hang down...
and let some slack out of the lenth between two nails on the wall (almost like a smile).
I then hung the necklaces from each loop and it looked nice.
Hope this helps.
Answer

this Question

...
Related Content