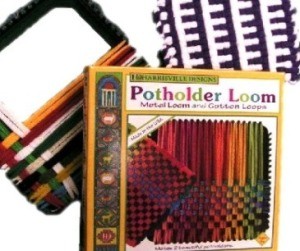 I just bought my daughter one of those looms you can make pot holders with. Is there anything else that can be made with this loom besides pot holders? I've heard of purses, rugs, etc. but I can't find anything on the internet. Help!
nl1720 from New Lenox, IL
Answers
By Michele (Guest Post)
March 5, 2006
0

found this helpful
Hi, I also have this loom. I have the old metal one, it is my mother in laws...I'm borrowing it. I have made potholders for a yahoo group I am on...but would love any ideas if you come across them. You can email me at:
ucmelaffn @ aol . com
(remove spaces)
Thanks!

March 17, 2006
0

found this helpful
You can make a vareity of items by stitching the completed squares together...blankets, tote bags, table runners, rugs. Simply stich the squares together using heavy thread, or cloth rags cut into strips.

August 27, 2009
0

found this helpful
Hi. I just saw this tutorial on youtube. It is awesome. She shows step by step how to use a potholder loom to make squares for use as a potholder or you can sew or crochet them together to make throws, placemats, etc... Hope this helps.
www.youtube.com/watch?v=35BDmaLDE4o&feature=PlayList...
I am going to be really cheap and try to make a square loom out of a square frame from the dollar tree or a square piece of wood and some nails. I already have some crochet hooks and yarn. I might see if I have some of those colored tacks that could be pushed into the wood; might even be easier than the nails. I'm just tired of spending money, and need to save money and pay bills!

July 6, 2010
0

found this helpful
Anyone have instructions for the x pattern place mats on the old wooden loom with nails. Appreciate.
r.garone@hotmail.com
Answer

this Question