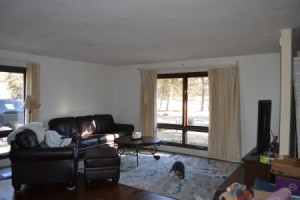 We bought a home not long ago. It had a small living room 16x12 which is now an open concept with dining and kitchen; as we took out walls. I put in hand-scraped hardwood floors, birch chestnut so they are darker. All the windows are dark wood. I will put in white trim throughout home. My better half wanted dark furniture when I finally caved and it is all brown leather/nail-head.
I found a rug to open and brighten the area, a Surya Steinberger (dark brown, camel, aqua, taupe, sage). Now, I can help with anyone's home/office, but not mine. So, I ask for wall color(s) and what curtains for living and dining. I know the ceiling is 8ft so it is probably best to keep white I think (we removed the popcorn ceiling so, excuse the look).
I also have all 6 panel doors that will go in closets and hallways. The living room window is a + shape and and 84" wide by 76" long and two walls on either side approximately 4.5 ft.
Please pardon the mess as there are so many projects going on (kitchen next). The curtains "sorta" up now came with home. I just need a cozy warm and inviting area.
Thank you.