Is it a good idea to paint a room two colors?

Karen from Caribou, Maine
Answers:
Find Examples Online
Instead of reading about how everyone loves how they painted their own rooms; look around the net for some 2 or 3 color painting examples. In the posts above, I unfortunately didn't see one response where someone raved about anyone else's decorating scheme but their own.
What parts you paint what colors depends on a lot of factors.

How does the light fall in the room? Remember that natural light will tend to fade darker colors more noticeably than lighter colors. Some will also show the tiniest amounts of dust more than other colors.

What decorations are you going to be using and what colors will best compliment them? If you have something that will be a centerpiece; you have to plan around that or your room's main focus will not look good.

When all else fails; try the "oops" paint section for a little cheap planning. That's when people buy mixed paints then decide they don't want that exact color. You can experiment with a general blue and brown from there and see what it looks like on the walls without doing the entire job.
Sometimes I luck out there and get colors that work out great on my projects and for $5 a gal or so; you can't go wrong!

Have fun with it, don't be afraid to ask for candid opinions on your test paintings, be polite about the advice you get but go with whatever you like!

By NY Mom
My Son's Bedroom
Yes! I love the beauty 2 colors bring. I did yellow and blue for my son's room.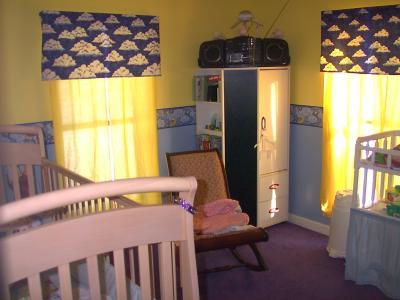 Praise for Two Colors
You can absolutely paint your room two colors. I do it all the time! We painted our daughter's bedroom with satin paint and used a soft purple and a soft pink and painted all the trim work white. It really looks cute! I did the same in my daughter's bathroom and used satin yellow and light green. We painted our entrance way with a light tan and sponged over it with a spicy red - looks like wall paper!

By L Ward