July 21, 2010
0

found this helpful
Best Answer
I would use one of the colors as an accent on one wall. In this case, the darker pink, as otherwise the room might be too dark if 3 walls are the dark pink. It also depends on your bedding, though. If it is mainly the orange, then you might want the pink on 3 and the orange as the accent. And, when doing the area near the corners, obviously do the lighter color first so that if it runs over the edge you can just go over it with the darker.
July 23, 2010
0

found this helpful
Best Answer
I agree with the previous poster that you should do 3 and 1, rather than 2 and 2.
I would, however, suggest that instead of orange and pink on the walls, you consider painting your accent wall first (I recommend this to be the bed wall) and the other 3 walls white. Use the contrasting paint to do a desk chair or piece of furniture. Too often, people wanting bright, modern rooms overdue on color on the walls and end up with overdone rooms that feel closed in.
Have some fun and look at pics on websites like decorpad.com and apartmentherapy.com. And be sure to post your finished room! Have fun!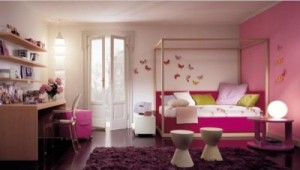 July 24, 2010
0

found this helpful
Best Answer
I'd go for 3 and 1 as well. Maybe the window wall as the darkest, especially if the bed faces it. Personally I'd do the three walls a lighter colour too perhaps lemon to the orange, or pale pink to the dark pink. Whatever you do- enjoy yourself!
Marg from England.
July 24, 2010
0

found this helpful
Best Answer
I'm going to be the rebel in the group and say alternate walls, pink, orange, pink, orange! Have fun! Paint is the easiest think to change later if you want to, but for now, live a little! You can be mature and predictable and follow the design/decorator rules the rest of your life, this is the time to be bold and have a great, super happy room. Go for it!!! When I was single, my bedroom had alternating color walls, aqua, apple green, aqua, apple green. It was gorgeous! I couldn't get away with that now that I'm married, but I sure did love that room! :)
July 24, 2010
0

found this helpful
Best Answer
Look! I even found an old pic of my bedroom, alternating walls isn't so bad. In fact I think it's great!
:) I painted the shells in a lighter shade of the wall color, just by adding white to the paint you can do any contrasting design you want.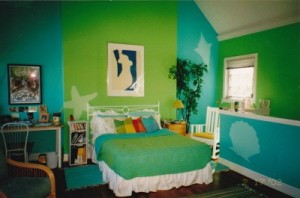 July 24, 2010
0

found this helpful
I also agree with the other posters. I think 3 walls should be done in one color. In decorating odd numbers are almost always preferable to even numbers.
I think the orange and pink combo would not be good for walls either. If you want to include the orange, I would make one wall pink and something else in the room orange, like an accent chair or in the pillows.
March 21, 2017
0

found this helpful
I like the idea of 3 walls the same and 1 wall as an accent being different or even some sort of pattern. It would look better and the one accent could be the focus point of your bedroom.