I would like to know more about faux granite counter tops.

By Gi from Baton Rouge, LA

Answers:
Painting Laminate Countertops
This is a granite paint that comes in a kit. I did the Bombay black but this is a picture of the Sicilian Sand Color.
You can get more information on it from here.

http://www.westsidedecoratingcenter.com/component/content/article/36-paint/69-giani.html (12/14/2009)

By Mike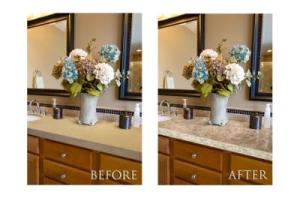 Painting Laminate Countertops
Gi, Honestly, what I did was spend several days reading down over all the posts having to do with anything re: painting laminate countertops. Also, much info. can be gained by doing a search on the web. If you read down over all the posts, you will find references to helpful websites. My island has been done for about 2 months now, and I've received so many compliments. Overall, I'm glad I did it, but I probably will not do the rest of my counter tops. Although most people probably wouldn't notice, it (envirotex finish) scratches easily, and I wouldn't say it's as durable as my laminate. But it does look beautiful. (12/15/2009)
By shannon