Parrot Photos and Information
Solutions
Share on ThriftyFunThis guide contains the following solutions. Have something to add? Please share your solution!
December 3, 2016
0

found this helpful
This is a guide about parrot toy ideas. Parrots are intelligent birds that enjoy stimulating play. Bird toys can be quite expensive, but there are alternatives.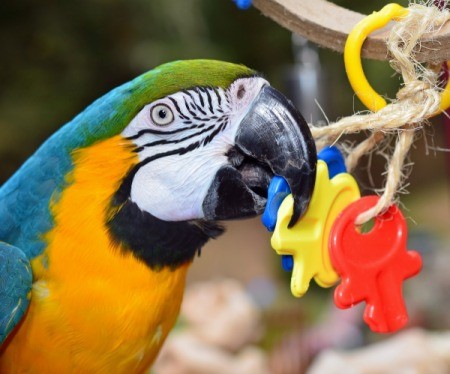 May 27, 2014
0

found this helpful
This is a guide about African gray parrot photos. These smart, medium sized birds make wonderful lifetime companions.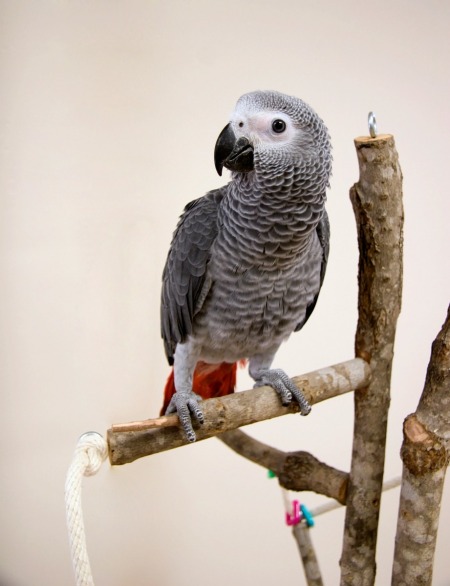 Photos
Share on ThriftyFunCheck out these photos. Click at right to share your own photo in this guide.
Your Pet's Age
1
Your Pet's Breed
Catalina Macaw
How and when did you get your pet?
We bought him and then we picked him up on July 5 2014.
What does your pet like to do for fun?
He likes to hang upside down, play peek a boo, and talk.
Do you have anything else to share about your pet?
He loves, peanuts, and hanging upside down, he also likes to chew up toys. If I win I would buy him and my other birds new toys.
This my "Quaker Parakeet" or Parrot, whose name is Rascal. He's 2 1/2 years old and loves to talk. He plays in the water and has a favorite toy, a rubber ducky. Rascal provides surprises and entertainment every day.
By Tami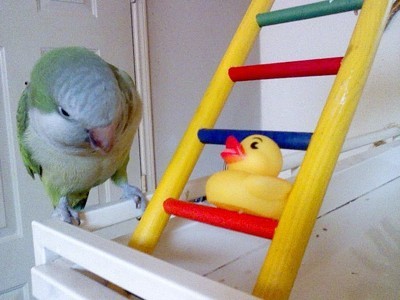 September 20, 2005
1

found this helpful
This is my sister's parrot, Avery. He's the sweetest guy, sometimes like a perpetual 2-year old and has become a part of our family. He loves to show off for the camera.
By Rahime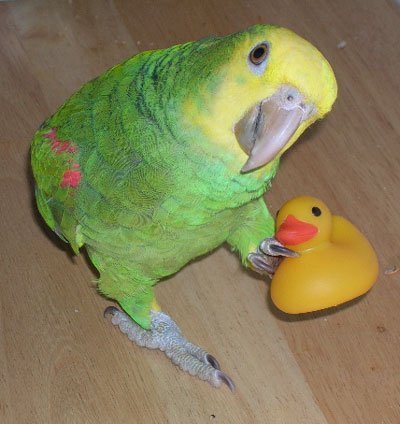 I'm not sure how old Jakie is. She is a Red Headed Conure. She was our grandmothers.
She likes to play on our bed with her babies and her cardboard box. She is spoiled rotten.
By Melissa from Dallas, NC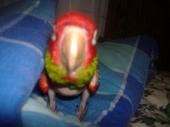 August 25, 2006
0

found this helpful
Tequila is my age (18 years) and is a Quaker Parrot. I bought Tequila when we were both fifteen, and we've been practically inseparable since. She loves to call for me, say "what cha doin?" or "Come HERE!" really loud. She also likes to laugh and sneeze just like me. Birds are more intelligent than most people think.
By Tara from Castlegar, BC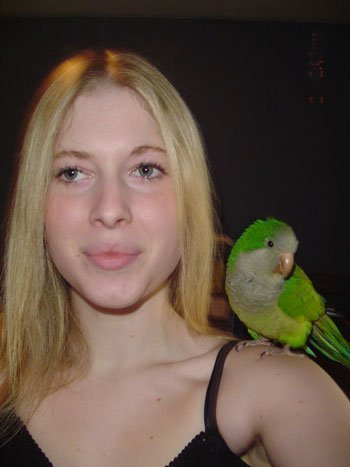 Skittle Katherine is a 2 year old Pacific parrotlet. We adopted her after hurricane Katrina. She was running around in New Orleans and a friend found her. She was all torn up her wing was broken and feather were all messed up. He rushed her to the vet and she doing great now. We have had her about six months now.
She likes to eat and she will chew your clothes to pieces if you let her. She loves looking in a mirror.
We love her so much, but she has a personality problem. She is mean she bites all the time. She's not afraid of anything. She thinks she is the queen and she is really spoiled rotten. The vet said it is from her staying out in the wild and fending for herself.
By Ashley from Lafayette, LA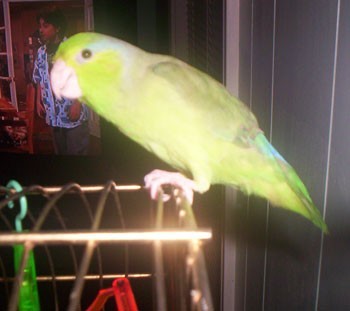 January 8, 2009
0

found this helpful

Steven's hair has been nick-named "happy hair" by his Aunt Sarah, because it sometimes sticks out all over the place. Connor, the Conure parrot, loves to stomp around in Steven's happy hair, and nibble on it. They are the best of friends.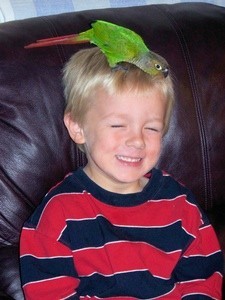 Read More...
Related Content