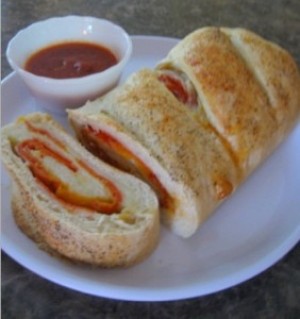 This is quick and easy for kids to make, even easier for them to eat!
Ingredients:
1 lb. loaf frozen white bread, thawed and at room temp.
1 8 oz. package of sliced Provolone cheese
1 8 oz. package of shredded Cheddar cheese
1 8 oz. package of sliced pepperoni
1 egg white
Garlic salt and pepper
Pizza Sauce (large jar)
Directions:
1) Preheat oven to 350 degrees F. Roll out dough on a 13 x 11 inch pan and let it raise for about 20 minutes.
Arrange Provolone cheese over entire surface of dough. Next, layer the pepperoni and end with the shredded Cheddar on top.
Roll the whole thing up jelly-roll style and pinch edges to seal. Brush the entire top with the egg white and season with the garlic salt and pepper. Make slits in the loaf before baking to let out steam.
Let cook 30 minutes. Cool then slice. Serve with pizza or spaghetti sauce.
Servings:
4-6
Time:
10 Minutes Preparation Time
30 Minutes Cooking Time
Source: Red Hat Society Cookbook
By April from Albany, GA

Ingredients
1 loaf frozen bread dough, thawed
6 slices provolone cheese
1/4 lb. pepperoni
Garlic Powder
Directions
Roll or press out dough on floured surface to 12 by 8 inches. Layer provolone, then pepperoni, leaving about 1/2 inch border. Roll up jelly roll style tucking ends under. Place on greased cooking sheet and sprinkle with garlic powder. Bake at 375 degrees F for 20 - 25 minutes or until golden brown.
EVERYBODY who tastes this loves it!! I used to make my own dough (and you can certainly do that if you want but using bread dough is so much easier). It is great with a salad or soup (you can dip it in spaghetti sauce if you want). Its also great in lunchboxes! Enjoy!!
By Carol from Landisville, PA
Read More

Comments
Ingredients
1-2 bell peppers, sliced
2 loaves frozen bread dough, thawed
1/2 lb. provolone cheese, sliced
1 pkg. sliced pepperoni
Parmesan cheese, grated
Directions
Saute' bell peppers in oil in skillet until tender. Roll out dough on floured surface into 12x24 rectangle. Arrange provolone cheese, pepperoni and bell pepper down center of dough, overlapping slices. Sprinkle Parmesan cheese and garlic salt over top. Fold sides to enclose filling. Seal seam and ends well. Brush top of loaf with oil. Place on greased baking sheet. Bake at 350 degrees F for 25 minutes or until golden brown. Slice into serving portions.
By Robin from Washington, IA