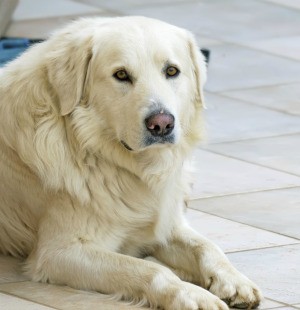 What is the best flooring for cats? The previous owners of our house had a cat which peed inappropriately in the house in the laundry room and family room. We moved in with 2 cats, they never peed outside the box, I had no problems with urination anywhere in the house.
Cat #1 died and we got a new cat. He's the problem. Since day 1, he has peed around the perimeter of the family room, near the window, in front of the entertainment center (which is against an outside wall) and along the wall separating the family room from the living room. Any clothing left on the floor is fair game. The carpeting we put down is shot, I tried having it cleaned to no avail.
I have tried baking soda and peroxide which worked for a while and enzymatic cleaners work somewhat but are mainly useless. So we're going rip it all out. I've heard enough bad things about laminates and I don't want carpeting, even the indoor/outdoor type or the replaceable squares. I'm pretty sure vinyl is it.
What is best, though? Armstrong, Congoleum, Mannington Gold, etc.? Or vinyl tiles? We did heavy-duty vinyl tiles in the laundry room and they've worked well, but Home Depot no longer has them.
Zeroxmom from Buffalo Grove, IL
Answers
By (Guest Post)
March 1, 2009
0

found this helpful
You might take your cat to the vet and make sure he doesn't have a urinary tract infection. Also, they will sometimes do that if they are allergic to their food, or if they're a non-neutered male and you have toms spraying around the outside of your house.
By Shelter Worker (Guest Post)
March 2, 2009
0

found this helpful
The type of flooring has nothing to do with the problem. The #1 cause is unneutered cats marking their area. Second is if the cat doesn't want to use the litter box for a reason...like it's too dirty (cats are much more sensitive than we are), the litter has a scent he hates or it's too near his food.
Also, was the cat previously an outdoor cat? Do neighbors let their cats roam onto your property? Your cat could be reacting to smelling the presence of other cats outside. Check for any signs of a mouse, bat, snake or other intruder in your home and basement. The cat is marking outer walls for a reason.
If that might be it; take care of the invading pests as needed. Try deterring cats with a thick line of naptha (moth balls), citrus peels or anything else cats don't like.
I also find enzyme cleaners work pretty well but you have to repeat with less and less cleaner MANY times to get out all the soap.
March 2, 2009
0

found this helpful
I had that same problem with one of my cats. He was fixed and didn't do this until he was around 2 or 3 years old. I found out that he was looking out the window and had seen some cats outside around our house. He will not do it for awhile and then all of a sudden start doing it again. But I have found the only thing that has cleaned up the urine and has taken the smell away is a product called awesome. You dilute it in water as much as you like. I usually for the cat urine use 2 parts awesome to one part water and spray on area. Awesome is sold at the dollar general if you are familiar with those for only $1.00 for a single spray bottle or $3.00 for a jug. Good luck..
March 2, 2009
0

found this helpful
In case he does it again, here's the pee reciple:
**As with any product that you would put on your carpet, flooring or furniture, please test for colorfastness. To test for colorfastness, mix a small amount of the solution and place on a hidden area of your carpet. Wait 24 hours or until carpet is dry before proceeding to full treatment.**
**We recommend extreme caution when treating fine fabrics and upholstery. You must be extra careful in checking for colorfastness. Do not skip this step, thinking, "Oh, I'm sure it will be fine!" It may not! You must test a hidden area and wait 24 hours before proceeding to a full treatment.**

ODOR REMOVER
16 oz. (2 cups) hydrogen peroxide
2 tsp. baking soda
2 small drops liquid dishwashing soap (Dawn, Palmolive, etc.)
Place all ingredients in a glass jar or bowl. Gently stir--do not beat or shake--until baking soda is dissolved.
If urine is fresh, be sure to blot up any excess urine with dry paper towels or a dry washcloth before the next step.
Pour mixture over urine spot, making sure to cover the entire spot. Allow mixture to completely soak the area being treated. Do not rub or scrub! Let sit for 24 hours without disturbing.
After 24 hours, take clean paper towels or a clean, white washcloth and blot up any remaining liquid (Again, do not rub or scrub.).
Allow area to air dry completely. If you are treating carpet, you can vacuum over the area when dry.
Makes 16 oz. (2 cups) of solution.
Tips:
The solution is most active for one hour after mixing. Be sure to apply the solution within this time period for maximum effectiveness.
Do not enclose the mixture in an airtight container, or you could have a big mess on your hands! The reason for this is because when the ingredients are combined they release oxygen (Remember making "volcanoes" out of baking soda and vinegar when you were a little kid? Similar principle here.).
Two alternate methods of applying the solution are using a spray bottle or a garden watering can. A spray bottle works best for applying the solution to hard surfaces like concrete or linoleum, or to vertical surfaces like walls or shower tile (This is not the best method for carpet.). Just be sure to thoroughly spray the area you are treating. A garden watering can is best for medium to large areas--indoors or outdoors.
For really tough odors, you may have to treat the area more than once. Carpet, furniture and mattresses typically require 1-2 treatments. Concrete, wood, tile and other hard surfaces usually need 3-5 treatments (1 treatment per day).
For concrete and other hard surfaces, you want to make enough of the recipe to completely cover the stain. Pour or spray the solution on and let it soak, soak, soak. Do not mop or wipe up. Let it sit for 24 hours (depending on the humidity level, it will usually evaporate during this time). Repeat the treatment once a day for 3-5 days.
For mattresses, the best thing to do is to make a double, triple or even quadruple batch of the recipe--enough to completely cover the stain--and then really pour it on. Don't be afraid of saturating the mattress. The urine has gone deep into the mattress, so you need to make sure that there's enough solution to go deep into the mattress as well. The solution has to reach the urine to neutralize it. We recommend treating the mattress in the morning so that the solution can work through the day. The mattress will often be dry enough for use by bedtime.
March 4, 2009
0

found this helpful
I would suggest you call your local animal shelter and ask them what type of flooring they have. Or better still, go there and take a look. They have to do LOTS of clean-ups and should know what types of flooring work.
Answer

this Question
I am replacing my kitchen, half bath, and laundry room floor, which is presently vinyl and very worn. The flooring company can replace with a high grade (Armstrong "best") or a ceramic tile for the same price. Which is my better option?
We have lots of pets (dogs/cats) and I always liked vinyl for its ease of cleaning. Plus, if I get tired of it, I can change it in 10 years or so. Any input in appreciated.
By Ginny from Murrells Inlet, SC
Answers
March 20, 2010
0

found this helpful
I like hard ceramic or porcelain tile. I have been spending time re-doing my house and found that under the carpet in the living room, which I have been tiling with porcelain tile, the original floor was old style hard lino squares. I found that if they hadn't been damaged at the edges (maybe from the carpet tack strip) I would not have minded them as being my primary flooring.
I also found that what was damaged came up with a putty knife very easily. What didn't come up, I was told could be tiled over as long as there was no chance of flooding. I just don't trust that the new vinyl flooring would compare. Especially if they are talking about rolled flooring. If they are offering ceramic tile, I would take it!
March 23, 2010
0

found this helpful
We have one dog ( large, very active and very messy!) and rooms with both the tile and high-end vinyl you're deciding upon.
Though I like the look of the tile,keeping up with that and ensuring the grout looks clean is, to me--an ongoing nightmare. The rooms with the vinyl are a snap to keep looking good.
Just my thought on it--but I find the tile a pain in the rear with just one big dog ( and you're mentioning lots of pets). Our gal doesn't pee or poop in the house; the mess I'm getting is just everyday track-in since one of the tiled rooms is our kitchen with direct and constant access to the back yard.
March 25, 2010
0

found this helpful
I like the look of tile, but vinyl is so much more care-free. If you drop something on tile, it's more than likely going to break. With vinyl there's always a chance it won't. A friend just put in a new vinyl kitchen floor that I could have sworn was tile. They make them very well nowadays. And then there is the grout as PupperMom mentioned. I'd go with a very high quality vinyl.
Answer

this Question