May 14, 2009
0

found this helpful
What do you feed a baby goose?
By brenda from Camdenton, MO
Answers
August 16, 2009
0

found this helpful
UNmedicated "Gamebird starter" crumbles. They also need lots and lots of grass.
Answer

this Question

...
Pooh Bear is a Chinese goose, that we think is three months old. We've had Pooh about a month. He was a runt and since I've gotten him he has shown a malformed foot and wing. He is handicapped and loved.
We have many "critters" on our hobby farm, a lot of which are handicapped. I have a handicapped daughter so they fit right in. Pooh loves to swim and eat grass and chick starter. He is very tame with me and my daughter but is wary of my husband.
He plays in the "corral" with the other critters during the day and sleeps in a cage at night.
He likes to swim and eat grass and chick starter. We have a pair of adult Chinese geese that have more or less adopted him. When he is in the corral with them and all the others, his daddy protects him and his mom stays close by him most of the time.
By Karen Lawson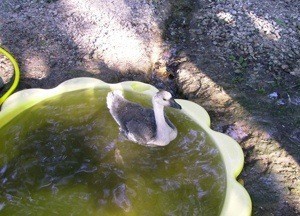 Mr. Koose-Koose (Kenya) is a 2 year old African Goose. A friend needed to find him (and his to be mate) a new home, so I was the lucky one!.

When I got Mr. Koose, he was gray and very soft and so tiny. In no time he grew feathers and now look. I had to teach this little gosling to eat, swim, etc. and teach him he isn't gonna sink! ha ha! The first time I placed him in the water, he screamed (like a girl) and kicked his feet like I was going to drown him. It took 3 visits to the real pond. (The fake pond was no match for his feet!) He splashed and liked to drown us both! Now he swims like a, goose!
He really shows off to any company that visits. He is like a watch-dog. Instead he is a watch-goose. He spreads his wings far out and thrusts his chest out (so beastly, just kidding) but humble!
He talks to me in goose language. I understand his every honk! I pick him up sometimes and pet his soft feathers. We look for each other each day and I have my own goose language and words and I communicate to him and he understands too. He likes to nibble the ends of my long hair. He's fascinated, I guess?.
He has a lady mate now (Mrs. Koose_Koose - Kimbabwe) and 3 offspring. He is very very protective of them. He fights with my pot bellied pig, turkey, and goat! He's sweet to me, nonetheless. I have to separate them at times!
Mr Koose walks so proud and as you can see, I am very fond of this lovable and handsome goose and so is Mrs. Koose-Koose.
By Mona from Hatchechubbee, AL