I was sorting my stuff in the garage and found this old picture frame. It was covered with paint stains around the wooden frame and looked so dirty. The glass was still in good condition as well as the stand. So I told myself, I can recycle this and use it for my nephew's baby picture.
How did I do it? I found a hard paper with a tiny squares and colorful design in my paper box. I cut those tiny squares, glued them neatly around the frame. Since my frame is half inch thick, I glued another strip of white paper around the frame.
To make my frame look more fancy, I got my leftover ribbons, white and blue, and glued it around the framed.
Now, I have a recycled picture frame for my cute nephew.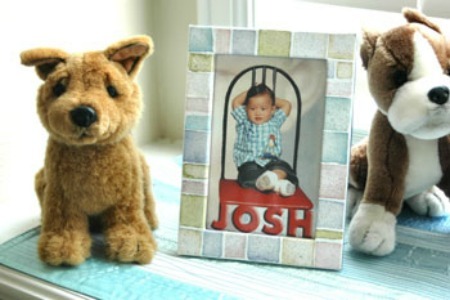 By Janice from Boise, ID
Answers:
Picture Frame from Recycled Items
Wow, what a nice frame. That is nicer than anything ready made you could have bought. Great (thrifty) idea! (06/20/2006)

Picture Frame from Recycled Items
This is beautiful! I love stories of people being creative and thrifty. If you have any more great ideas send them our way! (06/20/2006)
By Lindsie
Picture Frame from Recycled Items
In my daughter's special needs class, one Mother's Day they used cardboard and glued their newly taken picture in the middle then took small tiles and glued them on the cardboard around the picture to create a frame. It was so cute especially because they did it themselves. (06/20/2006)