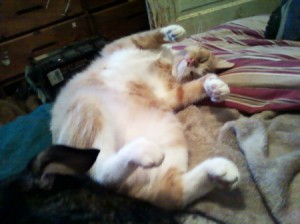 Last night, I was playing this little game I have, that was just a dollar, and you flip these little frogs into this bowl.
My cat, Peanut, came up to see what it was.
I started telling him what I was doing, and showing him each frog. He watched intently. I would put the frogs on the side of the bowl when I missed. When I was through, I asked him if he wanted to play.
He put his paw in and touched the frogs in the bowl. I told him how good he was. I put one in front of him and he tried to pick it up with his teeth.
(I have to watch, since these plastic pieces are not pet safe, if he swallows them he could get hurt.)
I am going to make him a bunch of stuffed little frogs or maybe even fishes to throw into the bowl. He really loved this kind of thing. I am going to make him a box with a paper ball in it and teach him how to play basketball with it. He is one one my more unusual cats, and now that I know he likes games, it might make his day fuller. It was so cute, I had to share. Here he is, taking a nap.